Summer Day Camp for Kids
Windsor County Bureau
SOUTH LONDONDERRY - Vermont is known for its small communities, and the caring and concern attributed to its rural values. It is a place where involvement in a neighbor's welfare is an important part of life.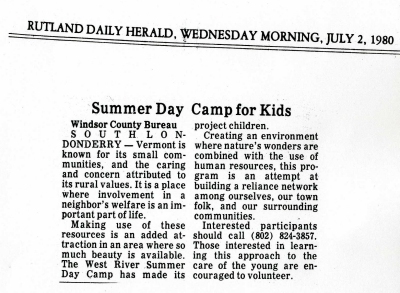 Making use of these resources is an added attraction in an area where so much beauty is available. The West River Summer Day Camp has made its project children.
Creating an environment where nature's wonders are combined with the use of human resources, this program is an attempt at building a reliance network among ourselves, our town folk, and our surrounding communities.
Interested participants should call (802) 824-3857. Those interested in learning this approach to the care of the young are encouraged to volunteer.