Ropes course add challenge to training
The obstacles look like something you would see on a television commercial promoting the strong young men and women developed by the Army or the Marines.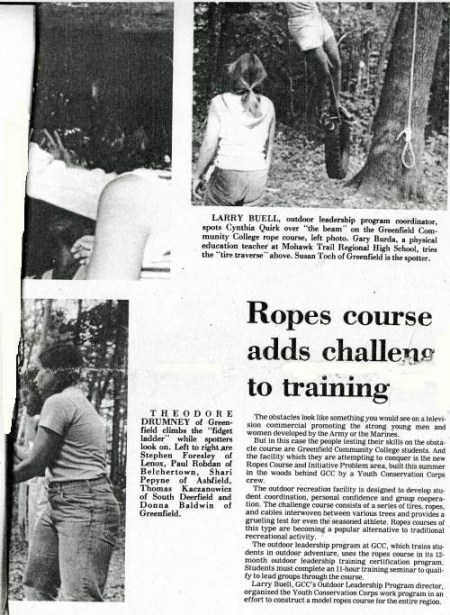 But in this case the people testing their skills on the obstacle course are Greenfield Community College students. And the facility which they are attempting to conquer is the new Ropes Course and Initiative Problem area, built this summer in the woods behind GCC by a Youth Conservation Corps crew.
The outdoor recreation facility is designed to develop student coordination, personal confidence and group cooperation. The challenge course consists of a series of tires, ropes, and cables interwoven between various trees and provides a grueling test for even the seasoned athlete. Ropes courses of this type are becoming a popular alternative to traditional recreational activity.
The outdoor leadership program at GCC, which trains students in outdoor adventure, uses the ropes course in its 12-month outdoor leadership training certification program. Students must complete an 11-hour training seminar to qualify to lead groups through the course.
Larry Buell, GCC's Outdoor Leadership Program director, organized the Youth Conservation Corps work program in an effort to construct a model ropes course for the entire region.