Watershed Technical Assistance Education and Training
Watershed technical assistance, education and training might be helpful to your objectives. Some examples are outlined here and others can be tailored to your needs and interests.
1. An Enabling Environment: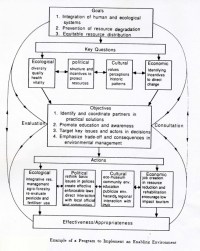 This is a 2-3 day workshop on setting goals and objectives in environmental program development. These have been applied in forest management issues in New England, Watershed/Non-point source efforts in the San Juan Islands, Forest/Wildlife conflicts within Waterton National Park and have been used as a framework for a community management plan for the Island of St. John, developed in response to the disaster of Hurricane Hugo, USVI. The resulting publication "Integrating Resource and Community Issues" was produced in cooperation with the Virgin Islands National Park.
2. Connecting Land Use, Water Quality and Human Health:

This is a field seminar (suggested 3-5 days) and course (either intensive training for practitioners or curriculum development) in understanding the risks to drinking water. These include an introduction to inter-disciplinary assessment methodologies, and applied management options that can be useful in understanding the effects of resource use. Water To Drink books can be included in the program.
3. Sustaining Waters: From Hydrology to Drinking Water: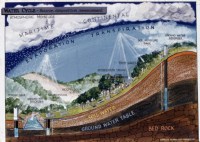 This is an overview done in an evening presentation and a suggested 3-5 day field course. This introduces a systems approach to understanding watersheds -- includes reference to forestry, agriculture, urban development and other ecosystem issues -- suggested field component, along with proposed field manual available
4. A Catalyst for Change: Disaster Relief and Prevention:

Around the world, disastrous effects of floods and droughts are painful evidence of our continuing struggle between human resource demands and the sustainability of our hydrologic systems. Too much or too little rainfall is often deemed the culprit in these water crises, focussing on water "lacks and needs" instead of exploring the mechanisms of the hydrologic functions and processes that sustain us. This workshop explores the mechanisms for environmental impact and to what extent current events can be the results of our environmental decisions. This critical workshop is designed to assist with an applied approach to current issues in crisis relief and prevention. Suggested 2-day workshop with field trip.
A Non-profit, Professional & Community Network
Balancing the quality of our environment with the quality of our health and well-being.

ANaturalResource.com
Ecosystem Hydrology, Community Health, Environmental Planning,
Technical Assistance, Education and Training
Contact us