Videos
---
In cooperation with the Institute for Global Education and in support of global efforts towards sustainable watersheds: Introducing a new documentary film...
Naturally Attracted:
Connecting with Michael J. Cohen
a film by Charley Scull
Genre: Documentary, biography
Length: 43 minutes plus special features
Format: DVD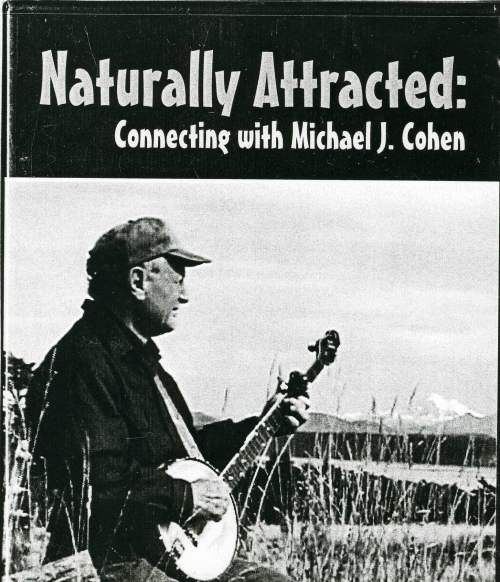 Experience the wisdom, personality, music, and life of nature educator, author, and musician Michael J. Cohen. Cohen has devoted his life to two passions: connecting people to nature and preserving America's musical heritage. This film explores them both.
To Order your DVD from ANaturalResource.com: $30.00 includes your donation for sustainable watershed projects around the world. - Order Form
For more than 20 years Cohen led outdoor education schools, including the National Audubon Society Expedition Institute of Lesley College. These groups of young people traveled all over North America and led Cohen to develop his philosophy of community and a system for connecting people with the natural world. Beginning in 1974 with Our Classroom is Wild America, Cohen has written seven books on these experiences and on his nature connecting process. With the development of the Internet in the 1990s, Cohen became a pioneer of distance education, offering online courses and graduate programs in applied ecopsychology -- educating and counseling with nature.
Musical Heritage
Cohen is a veteran of the New York City folk music scene in the 1950s and 1960s and has played banjo and sung with many of the leading figures of that period . He is the brother of New Lost City Ramblers founder and musicologist, John Cohen and the brother-in-law of famed folksinger, Pete Seeger. Early in his life he edited two collections of folksongs: 101 Plus Five Folk Songs for Camp (1966) and To Hell with Skiing: 64 Tragicomic Ski Songs (1967).
He continues to perform traditional music at a number of venues on San Juan Island and in the Pacific Northwest as the leader of the folk ensemble Sugar on the Floor. He is also one of two cast members in the regularly performed historical play, The Life and Times of General George Pickett.