Music
---
Farm Life Old Time Songs
Michael J. Cohen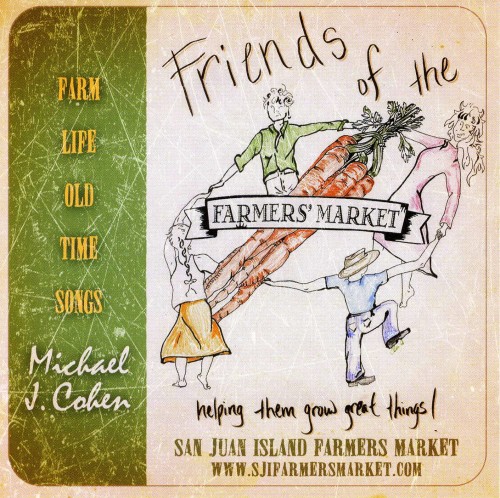 From his family roots in folkways, traditional singer and musician Mike Cohen, brings to life the fabric, tales, and impact of many forgotten songs. These musical antiques celebrate the history, quirks and values found in folk ballads. The Smithsonian Institute credits Cohen, a long time friend of old time music, with being a catalyst for the 1950's NYC Folk Music Revival where he professionally and informally sang and recorded with well known folk artists.
His repertoire of over 200 songs results from his musical family (including brother John Cohen, of the New Lost City Ramblers,) contact with many traditional singers in outdoor settings, and from Oscar Brand's Folk Song Festival broadcasts on NYC public radio where Mike sang and played as part of Ilictra Record's Shantyboy folk trio in 1956-59.
Mike is an ecopsychologist who lives on San Juan Island, Washington, www.ecopsych.com 360-378-6313.
Mastered by Kevin Nettleingham at Nettleingham Audio, Vancouver, WA (www.nettleinghamaudio.com)
CD manufacturing by Nettleingham Audio
Graphic design by Caleb Olsen at Nettleingham Audio
To Order your CD from ANaturalResource.com: price includes your donation for sustainable watershed projects around the world. - Order Form
Musical Heritage
Cohen is a veteran of the New York City folk music scene in the 1950s and 1960s and has played banjo and sung with many of the leading figures of that period. He is the brother of New Lost City Ramblers founder and musicologist, John Cohen and the brother-in-law of famed folksinger, Pete Seeger. Early in his life he edited two collections of folksongs: 101 Plus Five Folk Songs for Camp (1966) and To Hell with Skiing: 64 Tragicomic Ski Songs (1967).
He continues to perform traditional music at a number of venues on San Juan Island and in the Pacific Northwest as the leader of the folk ensemble Sugar on the Floor. He is also one of two cast members in the regularly performed historical play, The Life and Times of General George Pickett.