Tenor Trombone with F-Attachment
Model DBTF88H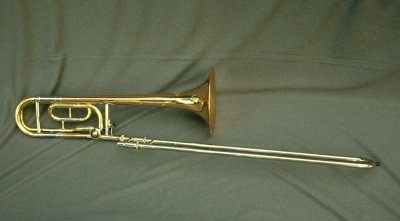 The DBTF88H is our offering of a large bore Tenor trombone with an F-attachment. This trombone comes standard with a gold brass bell, nickel silver, chrome plated inner slide tubes. And nickel tuning slide tubes. The sound is full and rich and the large bore makes it free blowing. This is a flexible trombone that can be played bright for jazz and big band and can easily be played darker for symphonic music.
This model is our large bore tenor trombone, with the F-attachment. This takes a large shank mouthpiece.
bore 13.89mm .547 in
bell 215mm 8.5 in
slide: nickel silver inner slide
Tuning Slide sleeves are Nickel.
For more photos click here.