"Eating at home..."
Join us to
Plant a Nut Tree
Look around your neighborhood for yards, parks, or schools that have room for big trees and might be willing to plant one or more.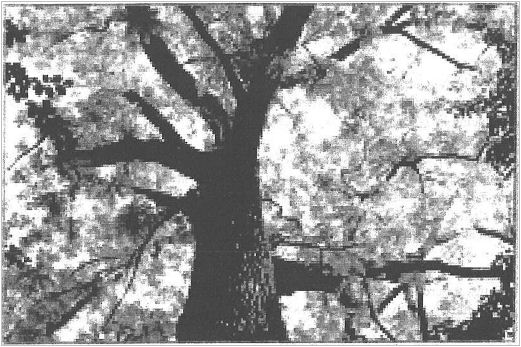 If we had planted walnut, chestnut and hazelnut trees around Olympia neighborhoods twenty years ago we'd have a lot of nutritious food today for our community. We didn't, but it's not too late. We can do it now! Nuts are rich in energy, protein, packed with antioxidants, vitamins, minerals and much discussed omega-3 fatty acids - and they are gluten free.
Historically, nut trees have done well in Olympia for over a hundred years:
*** Largest surviving American chestnut tree is in Mills and Mills Cemetery on Littlerock Rd. in Tumwater, 160 years old.
*** European chestnut on 4th Ave., eastside, 90 years old.
*** Historic Butternut tree brought from Missouri to Tumwater ,WA in a wagon train in 1845 by a free black man named G.W. Bush. Located near the airport. (see the story on the website www.burntridgenurserv.com under Plant Articles).)
*** Several huge black walnuts are found on the westside. One fills an entire backyard and is about 150 years old.
---
English Walnut - English walnuts are mild tasting, thin shelled nuts that are easy to crack.They have been used for generations for fresh eating and in baking. Technically they are self fertile but they will set a larger crop if you plant 2 seedlings, 2 different grafted varieties or a seedling and a grafted tree. Zone 4-8.
Suggested variety: Idaho Carpathian - Large, sweet, good quality nuts. Late blooming to escape spring frosts. Vigorous, productive and hardy. Grafted, $25.00, start producing in 3-4 years. 1 year seedling, $3.50, start producing in 7-10 years.
Chestnut - Chestnuts are majestic trees capable of producing large quantities of delicious nuts every year. They bloom in early summer & ripen in early fall. They form inside prickly husks that are squirrel proof until they fall ripe from the trees. European & American chestnuts & their hybrids are potentially large spreading shade trees when grown in the open. Chestnuts need a sunny location with good soil drainage. Grafted and layered trees bear much sooner than seedlings. Order 2 or more for cross pollination.
Suggested varieties for cross pollination: Belle epine, 1 year seedling, $3.50 and local Whitten (brought out west in a wagon train to Olympia around 1880), seedling, $3.50 take 5 to 10 years to begin bearing, $3.50
Butternut - Hardiest of the walnut family, late leafing, producing thick shelled nuts of rich, distinctive flavor, a delicious, buttery nut that truly lives up to its name. Zone 3-9. 8-10 years
Suggested variety: Bush Butternut Seedling. Seedlings 18-36" $7.50, 12-18" $3.50.
Heartnut - Japanese walnut with a thick shelled seed but easily crackable, usually heart shaped nut, sweet and mild. Trees are fast growing, beautiful, and hardy. Zone 5-9. 3 year @ $15.00, 1 year $3.50
Hazelnut Hedges of five or more trees - Plant a hazelnut hedge along your property boundary. European varieties produce a heavy yield of large flavorful nuts. They are ripe nearly a month before they drop so you can harvest them before the squirrels and jays. Order at least two varieties for cross pollination. Self rooted hazelnuts will begin bearing quickly, often within 2 years. Consuming just 1.5 ounces (1/3 cup) of hazelnuts per day may help reduce the risk of heart disease, according to the FDA. Hazelnuts have been ranked as one of the most nutritious nuts because they supply significant amounts of protein and fiber, vitamin E, B vitamins, iron, zinc, calcium, magnesium, and potassium. http://melodyrhodes.suite101.com/hazelnuts-for-health-a52029
Suggested varieties: Jefferson Hazelnut, self rooted $15.00, extra large $25; Yamhill Hazelnut, self rooted $15, extra large $25.00; and Theta, self-rooted $15.00, extra large $25.
For more information contact us.
See the Burnt Ridge Nursery website: www.burntridgenurserv.com