About the Artist: Karen Lohmann
Karen Lohmann is an artist and healer.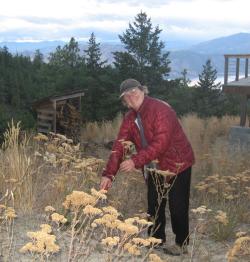 Her interest in exploring the natural world has led her from designing with flowers and plants to the interior work of Hospice care and Flower Essence Therapies. With pastel art, she continues the dialogue; reflecting color and shape on these life mysteries. She is pleased to fulfill a dream of creating a deck of flower cards that encourages interaction with the soul of nature and is thrilled to be a collaborator with Julia Brayshaw in Medicine of Place. Karen is a Comfort Care Therapist, working as a Certified (Flower Essence Society) Flower Essence Practitioner. She creates fresh floral designs for FlorAbunda. Her chalk pastels have shown in City of Olympia sponsored Arts Walks and Studio Tours. Her Public Art Projects as a Landscape Designer include: the "Seven Oars Parks" 1 and 2, "Stone Amphitheater" Earthworks at Bigelow Park and the Delbert McBride Ethnobotanical Gardens at The Washington State Capitol Museum. Karen has lived in Kyoto, Japan -- studying Zen, traditional Japanese Landscaping, and Ikebana -- and in Salzburg, Austria. She has hiked in the Lakes District of England, the Irish Dingle Peninsula, and trekked in Nepal, pursuing a love of hosteling. Karen and spouse, Joe Tougas, have 3 grown children, and a cute grandson.
---
Copyright © 2023 - All Rights Reserved -- Contact us