About the Author: Julia Brayshaw
Julia Brayshaw, MA/ABS is a lifetime devotee of nature's beauty.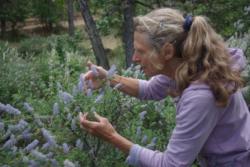 A depth psychotherapist for twenty years, she is seeking to integrate these twin callings. She is a flower essence practitioner, certified by the Flower Essence Society of California. Julia is an avid wilderness explorer, and has hiked and backpacked extensively in North America. In the past decade she has also explored the British Isles, Brazil, Greece, and Norway, encountering new bioregions and new plant communities. Her passion is to honor place, to join others in opening to wonder and respectful relationship.
---
Copyright © 2023 - All Rights Reserved -- Contact us