Creative Connections
Connecting Our Power of Spirit in the World of Water
"Our music and arts are not just aesthetically pleasing. They are our religion, what we believe, our guides. They are our communication with nature, identifying our spirit, serving as our teachers, teaching us how to act..."
-- Aboriginal Artist, Earth Day celebrations, 2007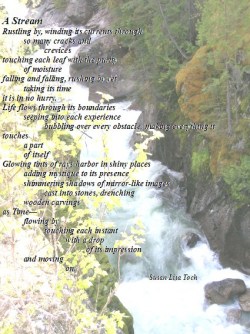 Water Works We welcome your contributions of poetry, music, creative works, stories, photos that link our spirit within our world of water.
Collective Community Support, Outreach and Interactions
Community Communications
While throughout history, culture and religions from around the world connect purity and well-being with clean clear water and the forests that surround them, the degradation of these same forests and watersheds that sustain us, speaks of a greater global disconnect. These underlying, deep routed connections between our natural areas and ourselves, are important considerations in our unified decisions for our shared resources and our avenues to work together in sustaining our common health and well-being.
We have long built upon local knowledge to better understand the links between land use, water quality and health, demonstrated in such publications as The New Yorker (Reflections, Encountering the Countryside) and The Experience of Place. Through integrating student organized field collections and coursework, we have incorporated culture, ecology, politics and economics in an comprehensive management plan and disaster prevention program, while meeting academic requirements in Integrating Resource and Community Issues: St. John USVI.
Creative Actions
Our stories, art and music often hold histories and geographic variables of landscapes, ecosystem change predictions and lessons for human/environment interactions. Intact hydrologic ecosystems that include the human experience of those within them are the key to our human health and our continued well-being. We must strive to guard and enhance the processes for natural quantity and quality within our hydrologic basins. These include resources management that connects the culture and ecology of particular area with how they can work together, The focus is on linking the health within our watersheds with the knowledge and spirit within the people who live there.
Our international efforts are now focused on designing audio/visual informational programs that overlay geographic photos with supportive music and spoken word as in the upcoming China/Tibet program. We welcome poetry, music, creative works, stories, photos that link our spirit within our world of water. We have been working on the Childrens book "Natures Way" to assist in nature connections for young people and the child within.
Cultural Connections
With over 15 thousand multinational scientists and water experts from around the world, the 2006 World Water Congress in Mexico City, was met by crowds of local and indigenous demonstrations blocking the Congress entrance. Insisting on honoring the spirit of water through stories, art, music and dance, alternative community forums were initiated focusing on local empowerment and access to their drinking water. Debates included questions of too much or too little water? Are you for or against privatization? Is access to potable supplies a basic human right? But while we continue to discuss our many options, we must also address our universal purpose.
Our work together has included projects that map hydrologic basins from the source to the drinking water supply. Though the use of music, dance and art, we have been able to build upon collective knowledge that contributes to scientifically sound data collection. Such efforts have resulted in community outreach and coordination through our actions in protecting and managing our place in our natural surroundings. Such sites have included the Tlingit and Haida Spirit Camp and the Stikine Watershed, Alaska.