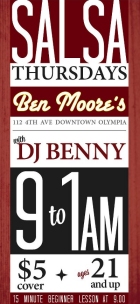 dance entertainment with performance and instruction

Events
Weekly Latin Social Dancing
---
Salsa Thursdays
Join us every Thursday night to Salsa get your weekday Latin dancing fix! Fun and welcoming crowd, great food/drinks, and a beautiful wood dance floor!
Where?
Ben Moore's Restaurant & Bar
112 4th Ave W Olympia, WA 98501
(downtown Olympia)
Salsa basic dance lesson for beginners from 9pm - 9:15pm
Dancing 9:15pm - late
$5 cover (includes lesson)
Ages 21+
Come as you are, all skill levels welcome.
We hope to see you there!
---
Salsa Saturdays
Jalapeno Productions presents the hottest Salsa, Bachata, Merengue, and Cumbia music for you to dance the night away! Lesson provided by Salsa de Olympia and friends!
Where?
Al Forno's Pizza
406 4th Ave. Olympia, WA 98501
(downtown Olympia)
Basic Salsa lesson at 9pm
Dancing 9pm - 1am
ALL AGES!
$7 cover, $2 with valid student I.D.
The Century Ballroom (Seattle)
If you are visiting Seattle to dance, our very favorite place is the Century Ballroom. Over many years, we have found them to be 100% consistent with their respectful approach to Salsa in the quality of the music, the beautiful environment, and the kindness of the patrons. The all-wooden dance floor is huge, there is a free coat check, the balcony is a great place to view all the dancers, comfortable chairs and tables surround the dance floor, and sometimes they bring in bands from Cuba!
http://www.centuryballroom.com/
Annual Salsa Events
Salsa Congress (Albert Torres Productions)
For the ultimate Salsa experience, we highly recommend attending in one of the ATP sponsored Salsa Congresses held world-wide and in major US cities. It is a 3-day Salsa extravaganza, with workshops starting at 9am and running all day in several rooms with a variety of levels and styles with local and internationally known instructors. The evening events are packed with performances, live bands, djs, competitions and dancing all night. And, after that? the 4am breakfast buffet, of course!
http://www.alberttorresevents.com/congress/
Seattle Salsa Congress
While this Salsa Congress is not produced by Albert Torres, it is in its eighth year and provides an exceptional Salsa congress experience. One of its unique aspects is that in addition to the regular one-hour Salsa workshops, they incorporate three-hour Salsa "clinics" so dancers learn their new skills at a deeper more applicable level. For the beginning or advanced student, this is a congress to put on your Salsa schedule!
http://www.seattlesalsacongress.com/
For any questions about these events, feel free to contact us!