Art is life...
About Us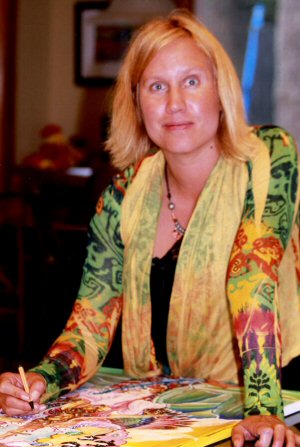 Heather Taylor has been a commissioned artist for 15 years, creating art for public and private viewing. She has specialized in mural work for medical offices as well as schools, public libraries, state organizations, museums, and city spaces.
Heather works in acrylic for her murals, using watercolor, pen, gold and silver leaf, graphite, pastel, mosaic and collage as required in her public and private work. There are examples of the different mediums and their relative effects on the website.
Commissioned work is collaborative by nature. Please initiate the process and see what beauty unfolds.
Education
B.A. Art History The Evergreen State College, 1993, B.S. in Psychology pending
Major Commissions

1994 Olympia Childrenís Museum
1994 Memorial Clinic
1996 Saint Peterís Hospital (6 x 4í x4í paintings)
1996 Handís On Childrenís Museum
1997 Olympia Pediatrics
1998 Olympia Community School
1999 Black Hills Pediatrics
1999 Olympia Eye Clinic
1999 Olympia Childcare Services
2001 ABC Pediatrics
2002 Northwest Optometry
2002 City of Olympia and Downtown Association
2002 Washington Middle School
2003 South Sound Bank
2003 City of Olympia Salmon Project
2003 Steamboat Island Preschool
2003 Olympia Youth Services
2004 Oakland Bay Pediatrics
2004 Olympia Downtown Library
2004 Healthy Start Pediatrics
2004 Northwest Optometry
2005 Healthy Future Pediatrics
2005 Family Support Center
2004-2007 Griffin Elementary, artwork for each graduating class
1998-2008 Handís On Childrenís Museumóresident muralist
2008 Griffin Elementary School, Squaxin Island Tribal Collaboration
2009 State Agency for Child Welfare, 2 projects, one pending
2009 Spring Art Walk Cover
2009 Healthy Future Pediatrics
2009 Olympia Pediatrics
2009 Family Support Center
2010 Capitol Medical Center
(*)Additional murals, portraits and landscapes for businesses and residences.

Past Gallery Representation in Oregon and Washington
Pegasus Gallery, Corvallis OR and State of the Art Gallery, Olympia WA
(*)Current service project painting iconic mandalas anonymously as fullcirclemandalas.

I have received public commissions from the City of Olympia, Downtown Association, State Agencies, Schools, Nonprofits, Businesses and Charities.

Teaching Experience
15 years teaching art at 8 different public and private schools and private lessons.

Publications
I have been in the Olympian 9 times and am currently being published in 4 books to be released, a Northwest Artist publication, 2 child/young adult books and 2 adult books as an illustrator.

Education and Research Experience
I was the equivalent of a 4.0 student at TESC, where I researched a variety of subjects responding in both written and visual form. Transcripts available.

Professional Affiliations
I am a registered womenís business through OMWBE. I use environmentally sensitive paints and have completed 2 LEAD certified buildings, though I am not independently certified. I am part of a women artist cooperative, working with Janice Arnold and Jennifer Kuhns as well as a participant in sustainable green artistry.