"a bi-monthly journal of environmental news and commentary..."
Proposed Westside Park
By Zena Hartung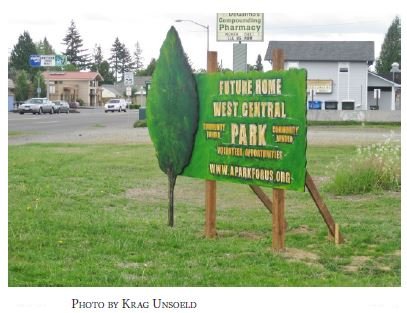 There is an empty lot at the corner of Harrison and Division in West Olympia. Most who drive by may notice the weeds or the real estate signs that spring up, but there is a lot of traffic on that corner, and most pay it no mind at all. But that corner has been the center of great controversy for hundreds of concerned local citizens in the last few years, and it isn't over. The latest twist is a much different outcome than many may have predicted. It's a story worth telling from the beginning.
In 2011, a multi-national corporation applied for city building permit to build a 7-Eleven on the site, with two buildings and 29 parking spaces. They didn't own the property, but had purchased an option from the owner to explore their building plans. The city development department approved the plans and it was announced to the community that the corner would be a 7-Eleven.
That's when the Westside community sprang into action and appealed the permit. That appeal was brought before the hearing examiner who, at the time, was Tom Bjorgen. He sided with the developers, the specifics of which can be gleaned from the records. The community rallied once more and found a pro bono lawyer, Bob Shirley, to take the hearing examiner's decision to court. Still, it wasn't cheap.
Led by Dan Leahy, a retired Evergreen professor, 60 residents opened their wallets and at a cost of over $6000, went before Judge Lisa Sutton to argue that the city had violated its own codes by permitting the 7-Eleven plans. Judge Sutton sided with the petitioners in April 2012. 7-Eleven said they would appeal, but they didn't and the lot remained empty.
Recently that vacant lot changed hands. Alicia Elliott now owns that lot. She is a resident of Olympia since 1997 who raised two kids in Olympia schools. Today she is a contractor, with a group of craftsmen-friends who are pleased to work for her on her rentals. She is poised and respectful but self-assured; a woman who is comfortable in her own skin. She knows her way around real estate and has been taking some very deliberate steps toward a vision she has for that vacant lot.
Here's how she told the story in mid April, before a group of Olympia activists known as the Carnegie Group. She spoke openly about how she planned to make the purchase.
"I've been a supporter of local business for many years. My community is important for me. Though I've not been involved in politics, I followed what was going on (with this property) and I knew of the conflict and how the dispute was causing a lot of friction."
She smiles and sits back in her chair. "I want to propose to the community that we turn it into a park or a square. But I don't want to dictate what that looks like. Still I have had some designs drawn up."
She shows the group first a simple site plan including all the dimensions. The property sits on the SE corner of Harrison and Division and is 80 feet on its smallest side but longer sides are to the two streets. The first paper is a survey of the property, the second is an artist's rendition, with lots of greenery and paths and some buildings.
"I never wanted to build this on my own, I see it as a gift to my community." She stops to assess how her audience takes this.
"I have been starting slow. I met with city officials and they told me there is no money (for the City) to buy the property or to develop a park there." She seems undaunted by this information.
Though Ms. Elliott's philanthropy is unusual, it is not unprecedented. Here in Olympia we've had two parks that came from donations of single individuals.
Harry Fain's Legion Park, donated in 1933, developed by the city in 1987, is located on 20th Ave. Woodruff Park was donated by Sam Woodruff, an early resident of Olympia to the City of Olympia in 1892. It is the park closest to Elliott's property, on Harrison Avenue at Thomas St NW. The other donated parks (LBA and Trillium) were donated by groups or neighborhoods.
But once again, these are city parks, owned, developed and maintained by the city parks department. What Ms. Elliott is proposing is different. This park would be owned by the community. Would it be a foundation? "I don't know," she replied. "Honestly, we're still exploring how that might work."
"My wish is to... I want to offer a 24 hour (open) bathroom for street people who need that. Typically there are folks misusing a facility that's open all night. But in the example of Occupy (Olympia)... they were set up next to a public bathroom and because they monitored it, there was never a problem."
She went on. "There is the problem of long-term maintenance with a park and there are costs: property tax, insurance. We need to form an entity that will take on these things, these challenges, into the future."
"My most important step is how I offer this to the community. I need help to know just what will work. I'm planning a big sign, 32 square feet -yes, I checked with the city, it is okay to place a sign that size, like these real estate signs you see- it could say something like "Future Home of West Central Park, community funded, community minded" or it could say just "Park. - Interested?"
A local homeowner, Harry Branch remarked later, "I wasn't real sold, I could imagine little kids or dogs running out into the street, it's a busy intersection, but now I'm imagining street performers, something very much like Central Park in New York."
Elliott said her next steps are to meet with the Westside neighborhood associations NWONA and SWONA. "I've also approached the West Olympia Farmers Market to see if they want to move from their present location at the Gloria Dei church to this corner. It is a real visible location," she said.
Editors note: Elliot met with the Carnegie Group in mid April and has since met with two west side neighborhood associations. For more information, or to get involved and to see the site plans as they evolve, go to www.aparkforus.org
Back to Home page.