"a bi-monthly journal of environmental news and commentary..."
Near shore salmon recovery plan
By NW Indian Fisheries Commission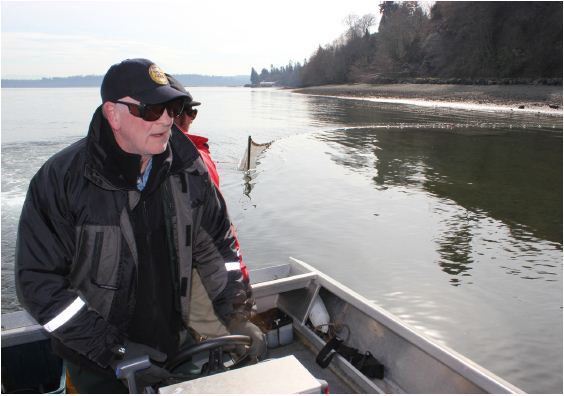 The tribally led salmon recovery effort in the Nisqually River watershed is shifting focus from freshwater habitat projects to restoring Puget Sound. "All of our work inside the Nisqually watershed could be undone if we let Puget Sound continue to decline," said David Troutt, natural resources director for the tribe.
The Nisqually Tribe coordinates and plans restoration efforts in the watershed as the lead entity for salmon recovery. The effort is in response to the 1999 listing of Puget Sound chinook under the federal Endangered Species Act (ESA).
"The Nisqually was the first watershed to produce a salmon recovery plan ten years after chinook were first listed under the ESA," said Troutt. "Since then, the watershed community has made large steps in restoring salmon productivity."
In the last decade, the tribe has worked with partners throughout the watershed to restore and protect salmon habitat. Restoration projects on two important chinook tributaries - the Mashel River and Ohop Creek - and restoration of the river's estuary will result in more naturally spawning chinook.
"Salmon have gained a lot of habitat inside the watershed, but once they leave for the ocean, they are still facing challenges," Troutt said. "While we were making gains in the watershed, we seem to be losing ground along the shorelines of Puget Sound."
More than 40 percent of the nearshore area just off the mouth of the Nisqually River is armored with bulkheads or some similar structures. That includes most of the shoreline areas that contribute vital sediment to Puget Sound.
With no sediment beaches disappear and effects on nearshore habitat make it harder to find food and shelter.
The tribe is adding several shoreline habitat projects to a list of preferred restoration options for the Nisqually watershed, even though the projects are technically outside the watershed's boundaries.
The tribe has also expanded monitoring of salmon usage to areas farther out in Puget Sound.
"Puget Sound is important to all salmon because they will use the shoreline as they make their way to the ocean," Troutt said.
"We have spent a good deal of time and energy restoring and protecting habitat to recover salmon and ensure our treaty reserved rights," said Georgianna Kautz, natural resources manager for the tribe. "We can't let losses throughout Puget Sound undue all of the hard work we've done with our neighbors."
Back to Home page.