"a bi-monthly journal of environmental news and commentary..."
Re-imagining Community
By Gita Moulton
Time to Relocalize!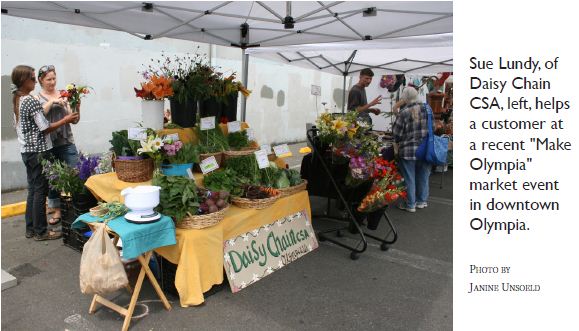 It has a nice feel to it - "re-localization" - and in looking for a good way to define it, I was reminded of how the Sustainable Community Roundtable struggled 20 years ago to give a clear definition of "sustainability" which has finally become a household word. Well, it won't take that long to grasp relocalization which, by the way, encompasses sustainability.
"Re" suggests going back, recovering a concept of village when communities were smaller and life was simpler, but the key word is "local". In a nutshell, relocalizing is about drawing a circle around the larger community, whether we define that as Olympia, the tri-city area or the county, and learning to care for more of our needs closer to where we live, much as we used to, as we prepare to adapt to the depletion of non-renewable resources and a changing climate.
This translates into focusing on local and sustainable production of food, energy, and goods, investing in a vibrant local economy, making responsible choices about where we put our time, money and energy. It includes a sustainable agriculture, community farms and gardens, local manufacturing, social equity, livable-walkable-bikeable streets and well-integrated public transportation, community-owned finance and local currencies. In other words, it means accepting local responsibility for our future.
With that in mind, the week of August 19-26 offers the following FUN events to embrace relocalization:
Reskilling Demonstrations
August 19, 1-5pm, Love Our Local Festival


Re-skilling continues the emphasis on relocalizing. This time "re" means remembering, reclaiming and reviving skills that were known fifty to seventy-five years ago. As the New Economics Institute puts it, "The men and women of the United States were once builders of boats, weavers of fabric, turners of pots, crafters of furniture, keepers of bees, operators of mills, welders of steel, creators of new technologies, and in general makers of the goods used in America. We may have skipped a generation in the continuity of these skills, but they are still in our cultural memory."
Until now, we have not had to concern ourselves with these skills because it has been so easy to go to the supermarket to buy our food, and we have a throw-away-and-buy-a-new-one mentality. These are the old skills that our grandparents took for granted, knowledge we will need to do things in a world of drastically reduced access to energy and resources. Skills will be needed, such as how to use hand tools, how to build our own structures, how to mend and make clothing, how to make our own medicine, and how to grow, preserve and store our food.
If we are to become more resilient as a community, we need to start now, rather than waiting until we have no other choice.
So, acknowledging that we all have something we can share and something we can learn, Transition Olympia has organized a number of short demonstrations of skills to be shared during the afternoon at the Love Our Local Festival:
Simple Rug Weaving
Compost in a Can
Do-it-Yourself Storm Windows
Edible Forest Gardening
Grinding Grain with Pedal Power
Seed Saving/Seed Exchange
Make Your Own Kombucha
The Composting Toilet
Solar Clothes Dryer Tips
Spinning with a Drop Spindle
Make Your Own Sauerkraut
Maybe more... -}

Many of these will be introductions to more in-depth workshops which will also include such skills as candlemaking, soapmaking, making tinctures, working with hand tools, darning socks, basic sewing and knitting, at an all-day Skills Festival on September 29. For more information:www.oly-wa.us/transitionolympia/Events.php

Love Our Local Festival:
Sunday, August 19, 1-9pm at the corner of San Francisco and Bethel St. NE.
Last summer on a beautiful, hot and sunny August afternoon, two neighbors on Olympia's Eastside put on an incredible event. Marie Poland and Daniel Landin got permission to close off the busy San Francisco Street intersection to put on a celebration of local music and art attended by hundreds of folks from not only the neighborhood, but the whole community. It was a resounding success.

Once again, by the San Francisco Bakery, the tradition of cultivating community at the crossroads will close portions of both San Francisco St. and Bethel St. to vehicular traffic, enhance the intersection with a freshly painted mandala and create a unique village microcosm.

With a focus on celebrating and connecting community, promoting sustainability, and showcasing bountiful local resources, there will be an artisan marketplace, live music, locally grown or produced food, inspirational speakers, a local area garden tour, a solar panel site visit, a play area with bubble blowing and lawn chess, a series of skill sharing demonstrations and information on non-profit resources.

The event, which is sponsored by Sustainable South Sound, will be free and fun! For more information: www.sustainablesouthsound.org

Village Building Convergence:
Week of August 19-26
Imagine living in a beautiful neighborhood that you have designed and co-created with your neighbors. If you are interested in changing the spaces where you live, work or play into more engaging and vibrant places to connect, please join the OlyVBC!

We envision Olympia as a network of neighborhood villages that share, preserve and celebrate culture, skills and resources; honoring the earth and building resilience for future generations. Whether you are a member of an existing community group, or an individual who desires closer community ties, we invite you to participate in the realization of this vision.

There will be a variety of workshops and events hosted downtown and in east and west Olympia during the week including cob wall building, a Village Kitchen, a skill-share day, wild-crafting and more. If you're interested in sharing a skill, or learning a few from your neighbors, join us for Skill-sharing at the Fertile Ground Commons, 311 9th Ave SE, Saturday afternoon on August 25th. Everyone is welcome to participate!

For more information, visit www.olyvbc.org or email olyvbc@gmail.com.

Gita Moulton is a founder of SPEECH.




Back to Home page.