"a bi-monthly journal of environmental news and commentary..."
Guest Columnist - Serious Re-Cycling!
By George Ormrod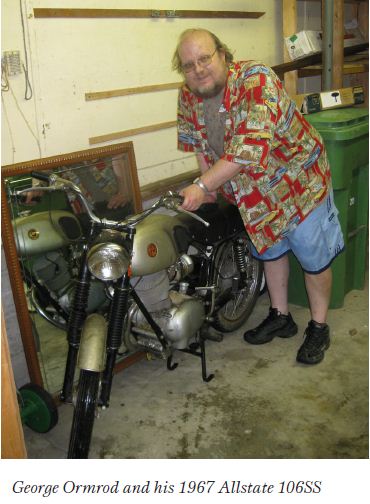 In the 1960's it was possible to purchase street legal motorcycles right out of the Sears mail order catalog. The Allstate 106SS was one of them. It was made in Italy by longtime manufacturer Moto Gilera of Milan. Sears rebadged it as an Allstate and sold, serviced and provided the warranty for it. The bike was usually sent through the United States mail to purchasers.
Some assembly was required. Some of you may remember that in the 1950's Sears marketed an automobile made by Kaiser Motors and called it an Allstate, The Allstate car was not sent through the mail however!
The Allstate motorcycle cost $389 brand new and has a claimed top speed of 60MPH. It weighs 194 pounds and has a 4 speed transmission with a multi-plate wet clutch.  The engine is a 106cc single cylinder overhead valve four stroke. Interestingly the kickstarter, rear brake lever and gear shift are on opposite sides of the bike when compared to  common Japanese motorcycles of that era. The shift pattern is the opposite also and takes some getting used to. Although fully equipped with lights and a horn, the bike has a magneto ignition and never had a battery.
I am a collector of antique cars and motorcycles. My latest motorcycle is the 1967 Allstate 106SS shown in the photograph. I found it last summer in the home of my 90 year old aunt in Missouri. The bike had been sitting in the basement untouched and collecting dust since 1973. There were only 195 miles on the odometer.
I quickly gave my cousin $200 for it. I had no idea if it would ever run again, nevertheless, I had to have it! I crammed it into the back of my Budget rental car --what's a few grease and oil stains among friends? Off I went to my other cousin's garage near Kansas City for long term storage for the bike.
It only took me two hours work, some fresh gas and a simple carburetor repair and I had it running like a champ! For now it will stay in Missouri and I will ride it around when I go back for family reunions. One day I hope to bring it back to Washington. Maybe I will ride it the 2000 miles..... I am not sure if Budget will rent me any more cars.
George Ormrod of Rochester is an antique car collector and restorer, and still keeps Janine Unsoeld's classic '81 Honda Express scooter in tip-top shape.
Back to Home page.