"a bi-monthly journal of environmental news and commentary..."
The Democratic Right to Choose!
By John Pearce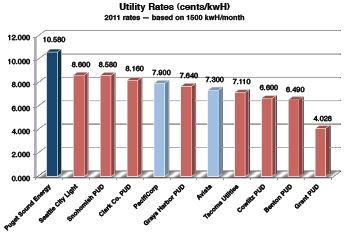 The signature-gathering effort of Thurston Public Power Initiative is very simply about exercising our democratic right to choose. Getting 10,733 petition signatures only gets us on the November ballot. Then voters will get to choose whether they want to give the Public Utility District (PUD) authorization to supply electricity to all or parts of the county. A "Yes" vote opens up the possibility that one day Puget Sound Energy will no longer charge us the highest non-island rates in the state for their notoriously unreliable service. Do you know anyone in Thurston without a generator who wouldn't like one?
Because PSE is wholly-owned by the Australian investment bank Macquarie (think Bain Capital with an accent), our choice is between continuing to suffer under a non-caring absentee landlord who raises the rent every two years and taking out a mortgage so that we can either buy the existing infrastructure or build a new one. Before you decide, please remember that this is about much more than you and today. This is about your children, their children, and how they will fare years down the road... a bit like buying a few acres on a Mercer Island gravel road back in the 50's.
To PSE and Macquarie, the citizens of Thurston County are assets. Their actual customers and the only ones they care about are the people who own the privately-held conglomerate. If PSE really cared about Thurston, they would see to it that our electrical infrastructure is as sound as those in the surrounding provided counties in which the PUD supplies electricity. That way, when a big storm hits, the power comes on much faster. Last January, over 90% of nearby PUD customers went less than 24 hours without power while those of us in Thurston languished up to six days or more in the cold and dark.
As the July 6 deadline for turning in petition signatures looms ever-closer, we at Thurston Public Power Initiative would like to tell you that on May 1 we turned in many, but not all, of the petitions collected so far - 155 sheets and just short of 4000 signatures. We have more than that, though fewer than the 10,733 we need.
If you are one of our many supporters who have yet to sign, please go to www.ThurstonPublicPower.org where you can download a mini petition to sign and mail to us. You can also find us outside many of the county's larger grocery stores in the early evenings, at the Farmers' Market four times a month, or send us an email at info@ThurstonPublicPower.org and we'll make sure to get one to you.
John Pearce is Chair of the Thurston Public Power Initiative and is a business consultant, email: chair@ThurstonPublicPower.org
Back to Home page.