If you would like to donate to the cause:


"100% bike-powered weekly compost pick-up service..."

How It Works
We are beautifying Olympia with 100% bike powered compost collection as an alternative service for residents and businesses alike. OlySunrise Compost Concierge provides the clearing for transition into hyper-local food production, and urban agriculture. Recycling our food scraps into local growing gardens is a great way to attune ourselves with a new pathway into this fossil free landscape - Olympia, our home.
Services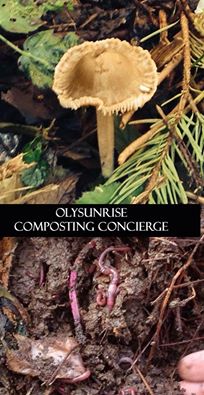 I provide weekly pickup of compostables (kitchen scraps) that will then be composted. If you are interested in me providing that service please click on one of the following links:

I then compost all this wonderful material so it can be used to make rich soil. If you would like to provide space for me to compost click on this link:

If you are interested in getting some of this marvelous soil amendment try this next link:

Other related services we provide, contact us if interested.