"a bi-monthly journal of environmental news and commentary..."
Activists Demand Transition from Fossil Fuels
By Robert Whitlock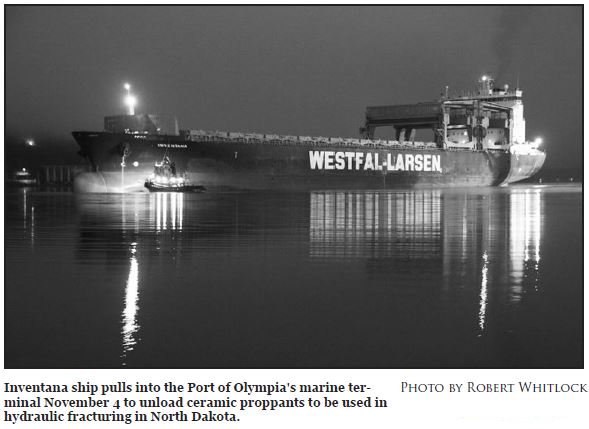 These are certainly interesting times. Industrial society has grown up fast! Pushing well beyond the sustainable carrying capacity of the planet, a massive planetary extinction of species is currently well underway.
Demand for resources roughly equates to the ability of one and a half planets to provide. And to make matters worse, if everyone were to live at the same economic level as the average American, then it would take five planets worth of resources.
In light of these facts, proposals have been made for new and expanded facilities to export fossil fuels from the Pacific Northwest. From Oregon to British Columbia, about six major bulk coal export terminals and about 11 crude-by-rail facilities, or facility expansions, have been proposed.
From Olympia, Washington to Washington D.C., and around the world, activists have been meeting, protesting, attending hearings, and testifying about the need for real change, to move away from infrastructure dependent on fossil fuels, and toward a vision of a society that could co-exist in harmony with the natural world.
In Washington State, the majority of activists have focused on coal export proposals: bulk overseas shipping terminals and the trains that would supply them. Other efforts have opposed the Keystone "XL" Canada Tar Sands pipeline and Puget Sound Energy's Colstrip generating facility, a massive mine-to-mouth coal burning electrical generator in Eastern Montana.
In Olympia, there have been efforts focused on the Port of Olympia's inbound shipments of proppants an aluma-silica, a "BB" type material used for hydraulic fracturing (aka "fracking") deep Earth oil shale in the Bakken formation of North Dakota. Oil from fracking operations has been shipped on rails.
The oil from the Bakken formation, perhaps having used fracture proppants imported through the Port of Olympia, was aboard a 72 car train that exploded in the town of Lac-Megantic, Quebec, killing 47 people.
A crude-by-rail facility expansion was proposed for Grays Harbor, but is currently on hold as an Environmental Impact Statement is drafted.
In October, the Washington Utilities and Transportation Commission's Energy Facility Site Evaluation Council began hearing about a proposed bulk oil export terminal in Vancouver, WA. The proposed Tesoro/Savage terminal would have 360,000 barrels per day capacity that would require four, one-mile-long oil trains per day to supply. Under current law, crude oil generally cannot be exported to foreign countries.
In other news, Governor Inslee has been at the forefront of West Coast discussions about climate change. He has formed a panel of legislators, the Climate Legislative and Executive Workgroup (CLEW), including himself as chief executive. The panel has been tasked with looking at all ranges of impacts from climate change, causes, and scoping for potential solutions, and approaches. Most recently the CLEW held hearings in Spokane and Seattle, and received written comments. The group also has a website and a listserve.
In late October, Governor met with California and Oregon Governors Jerry Brown and John Kitzhaber, as well as representatives from British Columbia, including Premier Christy Clark.
Climate change is a global problem. Reasonable solutions must include global analysis and be approached with a global scope. It would not make sense for the West Coast, or North America for that matter, to urgently pursue and achieve a carbon free economy, only to see rates of carbon consumption increase globally due to overseas activities.
Robert F. W. Whitlock is an activist from Olympia. He says he is pushing for an international, cooperative, collaborative "race to the Moon" approach to climate change. "I think solutions to climate change need to be approached with a spirit of true international cooperation and collaboration, with sharing and indeed even, basic kindness and friendship in mind. Solutions need to be connected with broader concerns of environmental and socio-economic justice. We should envision solutions that gravitate toward mutual economic uplift, with good meaningful jobs, and enough for everyone. Holistically sustainable, and further, in deep harmony with the natural world to which we all, truly and fundamentally, belong."
Back to Home page.