"a bi-monthly journal of environmental news and commentary..."
Prioritizing Steps Toward Carbon Reduction
by Jack Rice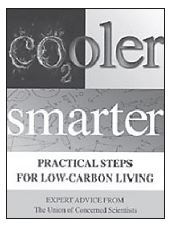 'Cooler Smarter: Practical Steps for Low-Carbon Living : Expert Advice from the Union of Concerned Scientists.'
By the Union of Concerned Scientists, Seth Shulman, et. al.
Island Press, 2012, 245 pp.
Climate change, global warming, rising oceans, extreme weather---reminds one of Old Testament prophets, plagues, the flood times of Noah... and a sense of disharmony with Mother Earth. When the Union of Concerned Scientists published this book, I, like a penitent, considered it a guide for a way of return. It is useful because it combines approaches on state, national and international levels with changes in personal actions, and prioritizes these actions based on sound science.
This book differs from the usual commentary because as it states, it serves as "a powerful tool for action. It cuts through the politicized rhetoric that too often clouds public discussion regarding climate change by offering practical and manageable advice as to how each of us can take steps that, collectively, can effect meaningful change."
The intent is to guide individual households to a 20 percent reduction in carbon dioxide emissions over the coming year. This goal is achievable with little or no cost in the short term, and offers significant cost savings over time.
The chapter "Sweat the Right Stuff" outlines a general approach by introducing the five major sources of household carbon emissions: transportation, home heating and cooling, other home energy use, food, and stuff we buy.
Subsequent chapters discuss each of these areas in more detail and outline possible actions, including the costs and benefits. One of the book's suggestions for a prioritized approach is to "buy organic cotton if you can, but don't go out of your way to do so. Focus instead on the more important steps you can take to reduce your direct transportation and household emissions."
Other chapters discuss education and involvement in community, the workplace, and government. It also includes numerous charts, graphs and "fast facts," as well as appendices, references and notes for further study.
Cooler Smarter provides extensively researched information and offers opportunities for actions - small and large - which lower carbon dioxide emissions and save dollars. Perhaps by acting on this advice we can incline toward a temperate, sunny day on Mother Earth tomorrow - even seven generations hence.
Jack Rice is an Olympia resident and a poet who often contributes to the South Sound Green Pages.
Back to Home page.