"a bi-monthly journal of environmental news and commentary..."
Bringing Back the Bees
by Hildi Flores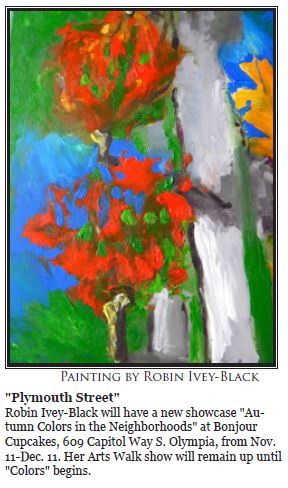 "If you want to change the world, get a beehive," Ernie Schmitt of the Thurston County Beekeepers Association told the Evergreen Bee Club, who invited Schmitt to speak October 28 about the basics of beekeeping. The newly-formed club at The Evergreen State College intends to start beehives at Evergreen and possibly around the community.
Perri Davis, a co-coordinator of the Bee Club, said a beehive used to be kept on the organic farm, but when the group of students dedicated to managing it graduated, the hive died. The club plans to start with one to two hives, most likely warres or top-bars, since they are the easiest to build and manage. "Just build it, swarm in the bees, and let the bees do the work," she said.
Schmitt spoke to the club about problems with commercial beekeeping and the benefits of a biodynamic approach.
"I believe we're one or two disasters away from the house of cards collapsing," said Schmitt. "The bee industry is in a state where it's barely keeping up with what's going wrong."
Schmitt spoke of Colony Collapse Disorder, a phenomenon that has plagued the bee industry in recent years. Beekeepers all over the world have reported vanishing hives. He attributes it to the constant stress placed on the bees throughout the conventional beekeeping process.
"The bee colony is a complex organism," said Schmitt. "Every individual will die for the good of that colony. What happens is conditions get so bad in the hives, it gets to the point where the last instinct for survival is every man for themselves."
He said transporting bees thousands of miles cross-country on vibrating semi-trucks makes them "psychotic." Then they are exposed to all sorts of pesticides as they pollinate industrial farms, which collect on their body and accumulate inside the hive.
Schmitt also explained that a langstroth hive, common in commercial beekeeping because they open easily to harvest wax and honey, is disruptive to the bees' carefully controlled environment. "I have not heard of a single viable case of colony collapse disorder in a top-bar or a warre," he said.
Top-bar and warre hives are designed for biodynamic beekeeping, in which bees manage their hive as they would in nature. It amounts to less work for the beekeeper, but also less harvest. For Schmitt, a biodynamic approach lets him be more in-tune with his bees.
"You will not hear anything from your bees if you want to know what's in it for you," he said. "If you want to hear from your bees, look at what you get as a gift rather than what you can exploit."
Schmitt also told the students about the sun hive, an ambitious construction project, but a "symbol of biodynamics." No sun hives have been built in Washington State, to his knowledge.
Davis said the club is open to experimenting with hive designs, and that building a sun hive "could put Evergreen on the map."
More so, Davis said building beehives will "expose the community to native pollinators and how they benefit the ecosystem."
"I was never into farming before I moved to Olympia," said Davis. "I just wasn't exposed. That's what I'm hoping to do with the Bee Club, to show people what bees can do for the shift in our agriculture."
Schmitt said he has hives set up throughout his neighborhood and his neighbors are greatly appreciative of the flowering bounty the bees bring. "I can't fix the whole world," he said, "but I can fix a half-mile circle."
For more information on the Evergreen Bee Club, visit their Facebook page or contact evergreenbeeclub@gmail.com
Hildi Flores is Managing Editor and a reporter for the South Sound Green Pages and a graduate of The Evergreen State College.
Back to Home page.