"a bi-monthly journal of environmental news and commentary..."
Comments on Coal Export Terminals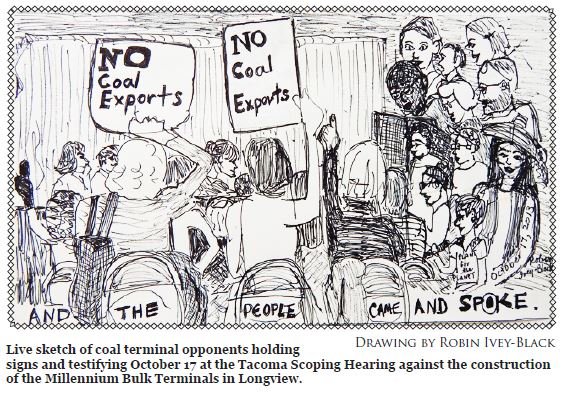 As part of a sustained effort to resist Northwest coal exports, activists from around the region gathered October 17 to testify at the final scoping hearing for the Millennium Bulk Terminals proposed for construction in Longview. Plans for the 540 acre site, 190 of which would be dedicated to exporting coal, are to be reviewed by the Washington State Department of Ecology and U.S. Army Corps of Engineers. Scoping hearings have been held over the past year to collect comments for consideration in drafting an Environmental Impact Statement for each of the proposed terminals for a major coal export project.
The following are excerpts of testimonies made by local public officials, residents, and tribal members:
"The Millennium Bulk Terminal, if built, plans to export 44 billion tons of coal annually. Wherever that coal is burned, it will spill tons of CO2 into the air, a greenhouse gas that will remain in the atmosphere for centuries. Despite the warnings of climate scientists, carbon dioxide emissions are still rising. The current trajectory is putting the world on a path to warm between four to six degrees Celsius above preindustrial levels by the end of the century...we do not know if humans will survive in such a climate." - Bourtai Hargrove, Olympia Resident
"As alternative, cleaner energies sources have evolved, the U.S. has drastically curtailed its use of coal. In response, energy companies are scrambling to press the last bit of profit from their cash cow by exporting this dirty energy to the Far East and third world countries. They seem to have little regard for our nation's environment, nor that of the rest of the world. They would have us believe that the deep water ports are needed for exporting grain and produce from Washington State, but the only purpose for these ports is to allow massive freighters needed to transport coal to the Far East." -Ed McClure, retired primary care physician, Thurston County
"I believe that cheap coal is a false path to national security, it's a false path to dealing with disasters, global warming, and it's certainly a false pathway to economic prosperity and job creation. The City of Olympia's main drinking water source comes from springs located at Nisqually Valley, about eight miles east of Olympia, in unincorporated Thurston County. McAllister Springs is the headwaters of McAllister Creek, which flows into the Nisqually National Wildlife Refuge, and directly into Puget Sound. Less than 3,320 feet downstream from McAllister Springs, where groundwater flows, is the Burlington Northern Santa Fe rail line that runs north/south through the Puget Sound region...a large rail spill near the springs could significantly impact the drinking water supply." -Mayor Stephen Buxbaum, City of Olympia
"The whole Puget Sound will completely be affected. Years ago, there was a statistic that Puget Sound has the cleanest waters in the area. That's slowly been declining and will continue to get worse. I do not want to lose those clean waters. Jobs should be created for all of us without sacrificing anymore of our environment. Jobs will also be lost on the other side. If there's a coal spill, we'll lose a lot of our fishing industry. We have one of the best waters in the area for seafood. We would lose that from what's leaching out of the coal dust...and it will affect all of us, not just the Native American fishermen." -Marian Smith, Puyallup Tribe
"I come to you today as a fish biologist....This key species of forage fish [in Longview] is providing food for the alkalized food chain....When larger fish don't have forage fish to feed on, they start eating their young, which means we'll have serious repercussions to those fisheries that depend on these fish." -Chris Stearns, Thurston PUD Commissioner
"The federal government, and by extension the state, made a promise to the tribal nations when they seized the land of natives....This constitutionally backed right promised the tribes would have the right to fish and gather....Climate change generated by fossil fuels degrades those treaty rights. What good is the right to gather if shellfish are dying from acidification?" - Zoltan Grossman, Professor of Geography and Native Studies, The Evergreen State College
"We are going to trade our dirty coal for China's pollution. We're going to live with that for as long as we can survive. I come here today to represent my great granddaughter, just recently born. By the time she's thirty, it's going to be too late if we don't make a decision here and now. These decisions can't wait ten, twenty, thirty years. They can't wait for someone else to do it for us. We each have a step within that journey today....There are those who would like you to look at coal terminals through jobs, economies and taxes. We can no longer afford that microscopic view. We must begin to think globally, because globally will be the consequences." -Dan Carpita, Shoshoni Tribe
Back to Home page.