"a bi-monthly journal of environmental news and commentary..."
Accounting for the True Cost of Coal
By Hildi Flores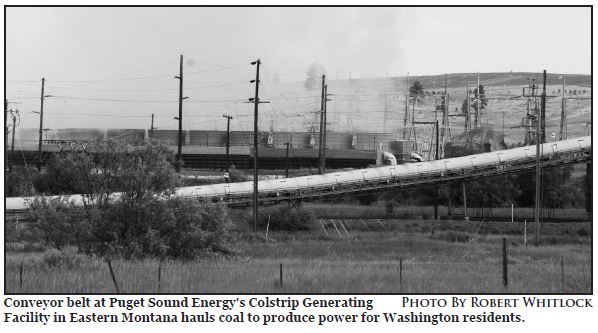 Every two years, Puget Sound Energy is required to publish an Integrated Resource Plan (IRP), a research-based assessment of potential risks and opportunities in procuring future energy sources. The Washington State Utilities and Transportation Commission (UTC) oversees the utility and a public hearing was held about the plan at the UTC building in Olympia October 10. Activists and representatives from Montana environmental agencies testified to the unaccounted costs of PSE's Colstrip Generating Facility in Eastern Montana--one of the dirtiest coal-fired power plants in the Northwest.
For Washington activists who have been mobilizing against the coal industry on several fronts, it is time to hold the state's largest energy provider to a higher standard. PSE's investment in coal conflicts with the state's targets for greenhouse gas reductions.
The strategy of activists, lead by the Sierra Club's Coal-Free PSE campaign, is to intervene in the regulatory process by pressuring the utility to comprehensively account for the costs of operating Colstrip, including but not limited to prices for carbon emissions, groundwater contamination lawsuits, ensuring future coal reserves, and human health impacts.
"Operating, maintaining, and remediating a coal-fired power plant like Colstrip will be expensive, and those costs are increasing," Anne Hedges of the Montana Environmental Information Center (MEIC) told the commission. "We do not believe Appendix J adequately addresses the costs. The owners have deferred maintenance for decades, and PSE's 2013 IRP attempts to continue that trend."
Hedges said the owners of Colstrip, the largest of which is PSE, failed to accurately characterize the site regarding the extent of groundwater contamination from the waste impoundments. The MEIC hired a geohydrologist to review the characterization and concluded the companies' results were "highly suspect."
"The apparent size of the groundwater plumes continue to expand, the location of the leading edge of the plume and concentration gradient within the plumes are not identified and the assessment of the calculated improvements in groundwater quality is based only on one parameter," said Hedges. "Monitoring data provides several examples where other parameters have increased while the one parameter they report has decreased."
The so-called remediation method the Colstrip facility uses involves pumping the contaminated water back into the waste impoundments, which Hedges said have been leaking since they were built. This method conflicts with Montana's laws regarding water rights, which are allocated based on prior appropriation, and can result in further unaccounted costs.
"These wells are pumping somewhere near 1.3 million gallons of groundwater everyday," said Mike Scott, a Sierra Club representative from Billings, Montana. "The idea is they are going to capture toxins that have already leaked into the aquifer and pump those back to ash impoundments. The problem is, they are not only capturing the toxins, but they are also gathering millions of gallons of fresh groundwater other prior appropriators are counting on. They are putting it to beneficial use without a water right, which is illegal, or they are evaporating it, which has already been established as an illegal waste of groundwater. Colstrip is going to need to get a water right because they are in violation of the existing provision. They are either going to have to apply for junior water rights or purchase water rights if they want to continue to use this pump-back system."
Another unaccounted cost includes procurement of coal resources. Currently, the Colstrip facility gets its coal from a single source, the Rosebud Mine in Montana, at which costs are increasing.
"In the current IRP process, PSE is predicting the only increased cost associated with fuel supply for Colstrip is a marginal cost of living increase and inflation," said Derf Johnson, also from the Montana Environmental Information Center. He said another Colstrip owner, Northwestern Energy, published an IRP procurement plan noting 'the mine has entered a stage in which the coal is more difficult to obtain than in previous years and is therefore experiencing about an eight dollar per ton premium compared to the base forecast.'" He said procuring cheaper reserves from another mine would cost about the same when factoring in transportation costs.
In addition to the mounting costs of operating Colstrip, continued use of this facility will undermine Washington State's effort to meet greenhouse gas emission reductions.
"Governor Inslee has taken up this challenge and is working with the Climate Legislative and Executive Workgroup to identify the policies needed to meet these emissions limits set in statute," said Sasha Pollack of the Washington Environmental Council. "Washington State's carbon footprint includes the emissions from PSE's out-of-state coal plants. As the Climate Workgroup reviews the breakdown of Washington's current emissions, it is evident that in order to meet our statutory commitment to addressing climate pollution, we need to responsibly transition off of our coal power. PSE's IRP represents a significant slice of Washington's energy investment dollars and as such can be an important factor in helping achieve the state's commitment to address climate pollution and transition to cleaner energy."
"What we cannot afford categorically in the short term," said KC Golden, a policy advisor from Climate Solutions, "are big, capital intensive financial commitments that lock us into emission trajectories that make it impossible to meet the trajectories the state has set its sights on and the kind we need to stabilize the climate. Regardless of the place at which these costs are internalized by law into economic decision-making, I think fully internalizing these costs into planning and regulatory decisions now is the right and prudent thing to do. If we make these investments anyway, and if they are not fully internalized by law, the costs of the carbon emissions still exist. They will be real, people will experience them."
Despite many testimonies regarding the environmental consequences of coal, Commissioner Philip Jones repeatedly reminded the public of the narrow scope of the Utility and Transportation Commission's jurisdiction. "We're all about economic regulations and costs," he said. "We're not environmental regulators."
In an interview after the hearing, Steven Johnson, Senior Commission Policy Advisor, talked about the complexities of the Commission's approach.
"It's unfortunately not a precise formula," said Johnson. "We're planning over a twenty year horizon with quite a few unknowns." He said the company has diagrams of costs to be incurred by laws and market prices, including different costs for carbon and emissions. They also have charts of when units become uneconomical, depending on sets of future scenarios and the degree to which they are likely to occur.
"The UTC has a big role to play," said Seth Ballhorn, a Seattle Sierra Club representative, in an interview before the hearing. "They can allow or disallow PSE to be reimbursed for investments made in Colstrip. If they fix it up, they have to ask to raise their rates. We'd rather put that money into renewables and energy efficiency."
Testimonies from outreach activists said ratepayers generally did not know PSE generated so much of its energy from coal and support phasing out this polluting technology.
"There are over one hundred local businesses, 14 state legislators, mayors, municipalities, local officials, and more than 11 thousand individual commenters that have all come together to say that PSE needs to understand the true cost of coal and include that in their IRP," said Alex Epstein, an organizer with Fuse. "Washington businesses depend on the clean, environmentally friendly image that reflects their customers' interests, and PSE is putting that at risk."
Erika Shrine of the Coal-Free Bainbridge Project said that of the approximately 1,100 PSE customers with whom they spoke, "the vast majority were not only unaware their local utility used coal as a major fuel source, but mistakenly believed there was no coal in their fuel mix."
Johnson said the commission is always willing to hear from ratepayers and they are welcome to send letters. "A public council at the attorney general's office represents the ratepayer before the commission. It is possible to intervene in a rate case, in which the utility would request a recovery of the cost for its investments in Colstrip."
In his testimony before the commission, local activist Robert Whitlock criticized PSE for their claim that retiring Colstrip will bring rate increases.
"To ask people how they feel about paying two percent more is the wrong approach," said Whitlock. "I think the right approach would be for PSE to apologize, considering how much damage this plant has done. I think PSE should pay people for what they've done, rather than ask people to pay more to change."
Hildi Flores is Managing Editor and a reporter for the South Sound Green Pages and a graduate of The Evergreen State College. She moved to Washington from Montana in 2008.
Back to Home page.