"a bi-monthly journal of environmental news and commentary..."
President's Message
by Krag Unsoeld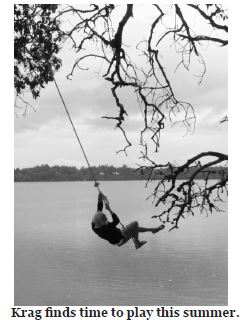 Stepping back into the shoes of being president of SPEECH, I realize it has been a decade since I last held this position. I will attempt to carry on some small semblance of the wonderful job that Janine Unsoeld has done as president for the past six years.
Reminiscences
My family moved back to the Pacific Northwest when I was in the ninth grade. It was 1970. I had recently helped clean up the Shawsheen River in Andover, Massachusetts for the very first Earth Day, and was beginning to whet my appetite for being an outspoken environmental activist.
Arriving in Olympia, I helped establish the Olympia Youth Coalition which pioneered Thurston County's first bottle and can recycling program, with drop-offs at five local supermarkets. My mother, Jolene, and Bernice Youtz drove their cars to empty the 55 gallon drums we had put out to collect the bottles and cans. Now the cities and the county both conduct curbside pickups.
The early '70s were also a time when Washingtonians were becoming aware of the threats posed on their shorelines. One project that was of special concern was the deep water export terminal that Weyerhaeuser wanted to build adjacent to the Nisqually Delta. In 1970, over a 10-week period, an environmental coalition gathered the second highest number of signatures on an initiative that had been obtained at that time. This citizen's initiative did not succeed but the legislature did pass the Shoreline Management Act.
Ultimately, the Nisqually export facility was stopped--the Nisqually Delta Association helped the delta to become a National Wildlife Refuge.
Fast Forward
Forty years since the Shoreline Master Program was formally ratified by a vote of the people, Weyerhaeuser is still a force in the forest. Now instead of building their own deep water terminals, they make easy use of public ports such as the one operated by the Port of Olympia. As Monica Hoover points out in her letter to the editor, taxpayers also contribute to making the port facility available and useful for Weyerhaeuser.
One of the reasons for the 1911 Public Ports Act was a Progressive-era backlash against the stranglehold that the railroads had on waterfront operations. It was thought that public ports could help ensure industry and exports that would benefit the general population. However, ports are a hybrid organization that combines the taxing, bonding and other aspects of government, with an entrepreneurial, commercially driven enterprise. Put on top of these characteristics the strength of the longshore unions and you see that ports are big government, big business and big labor all rolled up in one.
SPEECH Needs You,
You Need SPEECH
To have more victories like preserving the Nisqually Delta, I urge all of you to consider how you could pitch in and help SPEECH fulfill its mission.
I would like to quote Marge Piercy, from a portion of her poem, "To Be of Use."
Greek amphoras for wine or oil,
Hopi vases that held corn are put in museums,
but you know they were made to be used.
The pitcher cries for water to carry
and a person for work that is real.
So if you want to do work that is real, please consider volunteering with SPEECH. We can always use writers, editors, photographers, distributors and board members! We look forward to hearing from you.
Krag Unsoeld is President of SPEECH and can be reached at kragu@juno.com or (360) 250-9982.
Back to Home page.