"a bi-monthly journal of environmental news and commentary..."
New Community Garden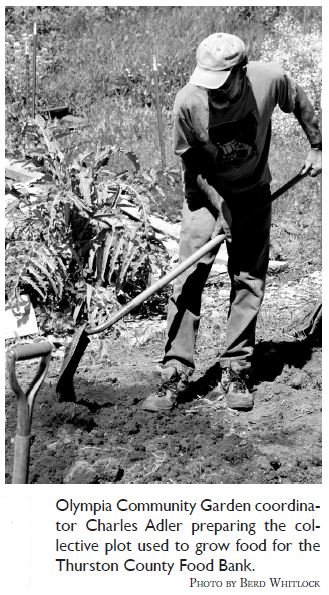 The Olympia Community Garden, located on the Eastside at 13th SE and Central, has been around since the 80's and has room for new gardeners. The garden offers an affordable way for people without suitable land to develop their own garden plots in a community "pea patch". A goal of the garden is to build community around local food sustainability. The garden has fruit trees, city water, a deer fence, plenty of hand tools, and members young and older. Whole plots are $50.00, half plots are $32.50, and include Sustainable South Sound's Buy Local coupon book. If interested in a plot call Jennifer Hooper at 481-4235. For other matters or to volunteer call Charles Adler at 943-9623.
Back to Home page.