"a bi-monthly journal of environmental news and commentary..."
Coal Export Threatens the NW & Thurston County
By Beth Doglio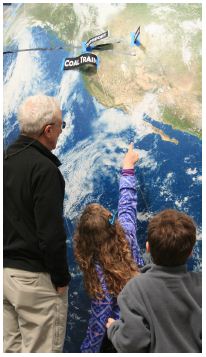 The use of coal in the United States is on a steady decline. Tougher air quality regulations, lower prices for natural gas, the shuttering of coal plants, and the expansion of renewables has eroded the use of coal in our energy mix. In fact, coal use has dropped 20% since 2000.
Coal companies, recognizing that there is little future growth to be had domestically, have a new plan: export coal to Asia to feed that rapidly growing appetite for energy.
The Powder River Basin (PRB) in Montana and Wyoming is one of the largest coal reserves in the world, and the easiest gateway to get that strip-mined coal to Asia is through West Coast ports. There are six regional projects underway: three in Washington - Bellingham, Longview, and Gray's Harbor, and three in Oregon - Port Westward, Port of Morrow, and Coos Bay.
If you add in the 4-5 million tons of PRB coal currently headed to Canadian export facilities it brings the total to 150 million tons of dirty coal that would ship from ports in the Northwest every year. This is more than 15 times the amount of coal that is currently burned at the Centralia, Washington and Boardman, Oregon coal plants - and we just reached agreement to transition those plants by 2025.
Moving & Storing Coal is Dirty, Dangerous & Disruptive
The coal has to move from the Powder River Basin along rail lines to the coast, endangering every community along the way. According to calculations by BNSF Railroad, each train car can lose 500 pounds of coal dust en route - and there are 125 - 150 train cars per train. Shipping this coal to Asia would spread toxic coal dust in dozens of communities along the rail line, clog our railroads and ports, risk our families' health, pollute our air and water, and stoke the climate crisis.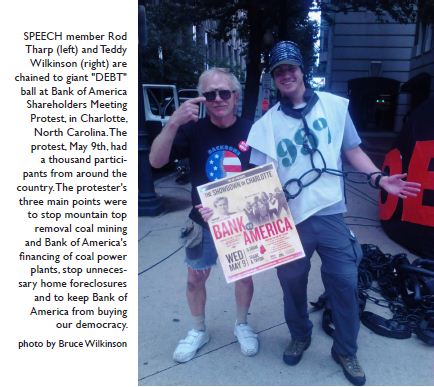 The wide ranging health dangers of coal dust include exposure to toxic heavy metals like mercury and increased rates of asthma, especially in children. Coal dust and diesel exhaust from coal trains and cargo ships can cause serious long-term health problems like lung and heart disease and would hurt our health and pollute our clean air and water.
Thurston County is one of those communities. A full build out of the proposal in Whatcom County would mean 18 trains a day travelling through Thurston County. These trains would run along the tracks utilized by Amtrak. The Grays Harbor terminal, located adjacent to the Grays Harbor National Wildlife Refuge, at times home to millions of migrating shorebirds, would utilize a spur track that runs through Rochester.
The main tracks in Thurston County go by Long Lake, McAllister Springs (or Medicine Creek), Pattison Lake and the Nisqually Wildlife Refuge. A recent agreement between the Tribe and the City of Olympia was part of the effort to move the city's water source from McAllister Springs to McAllister well heads. One of the concerns was the potential for a hazardous spill on the rail lines above McAllister/Medicine Creek. The tribe has a strong spiritual connection to this creek and is excited to let it flow naturally again.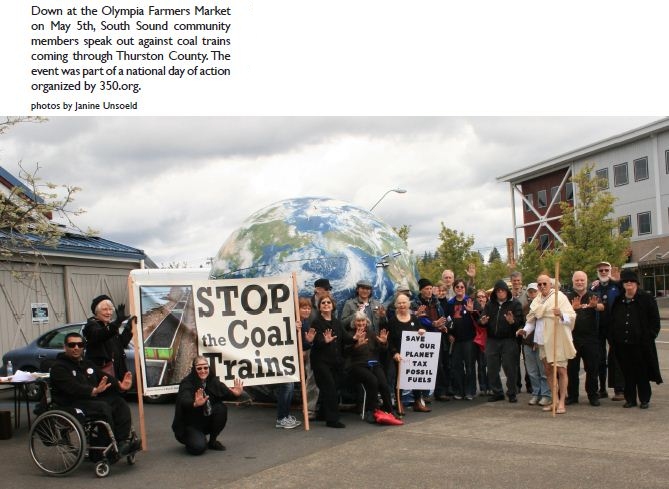 The small towns of Tenino and Bucoda would forever be changed with this volume of train traffic spewing toxic dust rumbling through their communities. Many other communities in similar situations have passed resolutions or sent letters to appropriate decision makers - these include Camas, Edmonds, Mosier, Oregon, Washougal, Dallesport, Marysville, Mt. Vernon, Mukilteo, Seattle and Sandpoint, Idaho; the counties of San Juan, King and Skagit, and the port of Skagit.
The Power Past Coal campaign, several cities along the rail line and Oregon_Governor_John_Kitzhaber are calling for a Programmatic Environmental Impact Statement (PEIS) to ensure that the cumulative impacts of all these proposals are considered before any coal export projects are allowed to move forward. This is the only way we can be sure that Thurston County voices are heard. Please call on Senators Cantwell and Murray, our Members of Congress, and Governor Gregoire to demand a PEIS.
You can also contact the Thurston County Commissioners at (360) 786-5440 and ask them to pass a resolution opposed to coal export. Visit powerpastcoal.org to get more information.
For more information, go to www.powerpastcoal.org or call Beth Doglio at Climate Solutions 360-352-1763 x 29.
Beth Doglio is the Regional Director of Power Past Coal and the Campaign Director for Climate Solutions. Beth lives and works in Thurston County.
Back to Home page.