"a bi-monthly journal of environmental news and commentary..."
22nd SPEECH Annual Event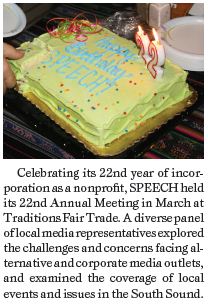 Celebrating its 22nd year of incorporation as a nonprofit, SPEECH held its 22nd Annual Meeting in March at Traditions Fair Trade. A diverse panel of local media representatives explored the challenges and concerns facing alternative and corporate media outlets, and examined the coverage of local events and issues in the South Sound.
Participants included: Toni Holm, Station Manager for MIXX 96.1 FM, Rick Crawford, editor, Thurston-Mason Senior News; Marrisa Luck, Works in Progress; Jerre Redeker, Senior Editor for The Olympian; Matthew Green, co-editor, Olympia Power and Light; Deborah Vinsel, General Manager, Thurston Community Television, Holly Smith Peterson, Associate Editor, Business Examiner, and moderator, Krag Unsoeld, SPEECH board member.
SPEECH appreciates our panel members and would also like to thank Walt Jorgenson, who videotaped the evening's discussion and posted the raw footage here: http://www.youtube.com/user/waltjorgensen
And of course, there was cake!
Back to Home page.