"a bi-monthly journal of environmental news and commentary..."
Evergreen Housing Sustainability Upgrade
By Jayme White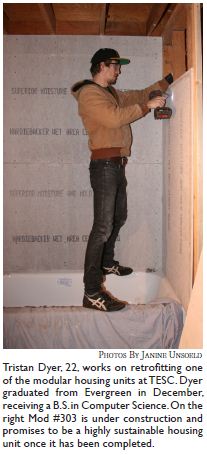 In 2009, a plan was implemented by The Evergreen State College to reach carbon neutrality by the year 2020. In pursuit of this goal, The Evergreen Residential and Dining (RAD) Services sustainably remodels one modular housing unit (Mod) every year in an effort to both decrease the Evergreen carbon footprint, and compare the efficiencies of different financially reasonable sustainability methods. Every year a group of sustainability minded students are given the opportunity to live in The Sustainability House, which is a housing unit devoted to making sustainability a daily part of residential life. Mod #303 is intended to be one of two Sustainability Houses in academic year 2012-13.
The Clean Energy Committee (CEC), a student-run group which is responsible for representing the student body in the management of the Clean Energy Fund, has been extremely supportive of the various Mod remodeling projects taken on by RAD Services, providing funding in excess of $42,000, $8134 of which was recently awarded for the next step in the Mod #303 project. This funding will provide RAD Services with LED lighting and in-floor radiant heating for the Mod, as well as four "The Energy Detective" (TED) 5000 energy monitoring systems.
LED lighting is a significant improvement on the current fluorescent lighting used in the housing units. Not only are they 80% more efficient and provide over 50,000 hours of lighting, but they contain no mercury, they do not flicker, they are shatter proof and do not require a warm up period. All of these qualities make LED lighting a no-brainer for any institution where people rely so heavily on good lighting.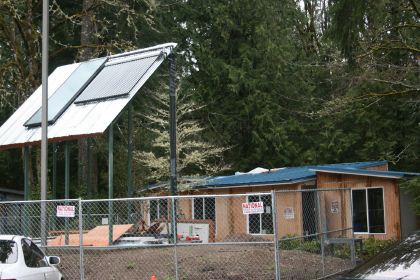 The in-floor radiant heating system will be powered by two solar hot water panels that have been mounted outside the Mod. These panels will heat a glycerin based fluid which will in turn heat water in a storage tank. This heated water will then circulate through the Thermal Board flooring and heat the housing unit from the floor up, which is much more efficient than other heating methods.
Thermal Board flooring is composed of oriented strand board (OSB), which is made with recycled material and is fully recyclable. Aluminum with channels cut into it is placed on top of the OSB board and piping is run through the channels. This piping is what the water runs through, and from there it will transfer its heat to the surrounding aluminum, and this heat will radiate upward through the flooring to evenly heat the home.
All Mod remodeling projects are undertaken by RAD Services with the intention of increasing sustainability both on and off campus by providing information regarding sustainable options that are financially reasonable for independent homeowners. Upcoming RAD projects include a Rain Water Catchment System and an Aquaponics Greenhouse, just to name a couple. Evergreen's RAD Services is always eager to put new ideas through the trials of experimentation.
Jayme White is currently a fourth year undergraduate student at The Evergreen
Back to Home page.