"a bi-monthly journal of environmental news and commentary..."
Summit on Community Food Security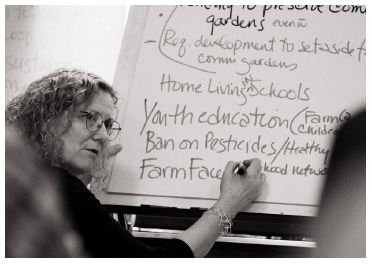 "Come to the Table: Food Summit South Puget Sound" was held on October 14 and 15 in Olympia, bringing together those who grow, make, process, eat and are otherwise involved with food here in South Puget Sound.
Following a Friday evening talk at The Washington Center, by Mark Winne, author of "Closing the Food Gap," the Summit moved to the Thurston County Fairgrounds on Saturday for several brainstorming sessions. Here, 175 participants envisioned long term goals for local food security. The ultimate plan for the summit was to create a food shed action plan. (See http://www.sustainablesuthsound.org )
Back to Home page.