"a bi-monthly journal of environmental news and commentary..."
Damn Dams
By Steve Robinson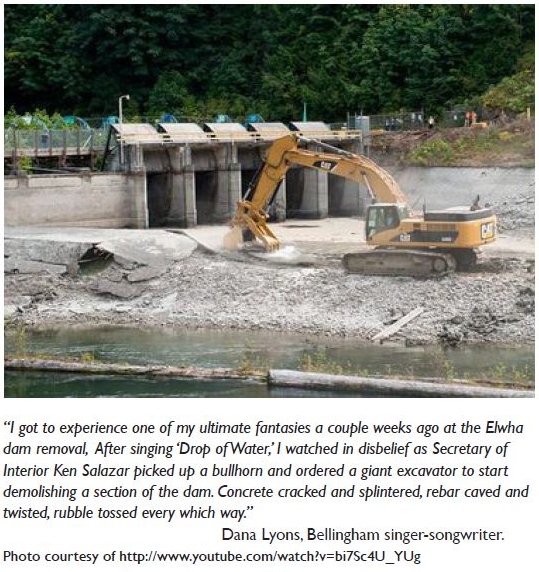 For generations, the concept of damming rivers in the Northwest to capture "cheap" electricity was all the rage. Projects have ranged from the gigantic, such as those on the Columbia River - mountainous structures of concrete erected to hold back billions of gallons of water to be run through hundreds of turbines to light entire cities - to smaller earth dams built for irrigation. Some refer to hydro-electric/diversion structures as a source of "green" and renewable energy and the providers of food, water and flood control that has injected powerfully positive impacts on the Northwest economy and made contemporary life possible. Some even advocate the construction of new dams, such as on the upper Chehalis water system.
But from the beginning, whether built by the government-operated Civilian Conservation Corps, power companies or irrigation districts, the benefits derived from dams have not been cheap - at least not in the minds of people whose livelihoods have been directly dependent on healthy fish runs. Note that salmon are a keystone species in ecosystems throughout the Northwest and everyone's health, whether they fish or not, is actually dependent on their survival.
percent of the natural salmon runs were quickly wiped out by dams in rivers throughout the Northwest. Hatcheries built downriver for mitigation purposes have never measured up, although they have been helpful in maintaining at least some fisheries and broodstock.
Major attention is focused on the removal of the Elwha River dams these days. After many years of highly frustrating effort to get the Elwha and Glines Canyon dams removed from this river, once home to one of most incredible Chinook salmon runs anywhere in the world, it is actually happening. It is a dream come true for Elwha S'Klallam tribal members and others who have worked so hard toward the destruction of these massive fish killers.
Now, also, the Condit Dam has been blown up, freeing the White Salmon River. These three constitute the largest dam removals ever to take place in the country. The Elwha Dam stood 108 feet tall, the Glines Canyon Dam 210 feet and the Condit Dam 125 feet. The removal of the dams on the Elwha River will open 70 miles of prime habitat for salmon. The removal of the Condit will restore 33 miles of riverine habitat. The removal of these dams demonstrates that dam removal in some situations is a viable option. It's a realization that detonates not only concrete, but ways of thinking, too.
Steve Robinson is a SPEECH board member.
Back to Home page.