"a bi-monthly journal of environmental news and commentary..."
Reflections of a Watershed Educator
By Susie Vanderburg, LOTT Clean Water Alliance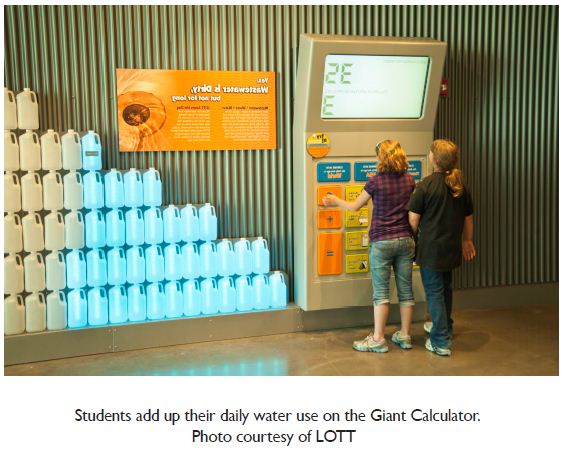 I came to Olympia in 1991 to pursue a career in environmental education. By good fortune, I was hired by the Thurston County Stormwater Utility as the education and outreach coordinator. The next 13 amazing years were filled with opportunities to teach people of all ages about salmon and wetlands, pollution prevention, and ways to reduce the impacts of storm-water runoff. My life was happily consumed with weekend planting projects, classroom presentations, evening workshops, and (my favorite) doing macroinvertebrate monitoring with Stream Team volunteers to assess the health of local streams.
Oddly enough, in all those years of watershed education where I constantly tried to show people "the big picture"....how everything is connected by water...I never once thought about urban wastewater treatment. I often talked about groundwater as our source of drinking water, but urban wastewater (the other end of the pipe) was completely off my radar screen. Then, in 2009, I went to work for LOTT. LOTT (Lacey, Olympia, Tumwater, Thurston County) provides wastewater treatment and produces reclaimed water for the urban areas of Lacey, Olympia, and Tumwater in north Thurston County.
As LOTT's Environmental Educator, I've been busy developing school field trip programs as well as Saturday activities for the new WET Science Center. But, first I had to learn all I could about the world of wastewater of which I was woefully ignorant. I learned about the huge volumes of wastewater (from 98,000 people) treated daily at the Budd Inlet Treatment Plant. I toured the plant to see the massive machinery and latest technology and began to understand why so much energy is required to clean up everyone's wastewater.
I visited the lab to see the extensive water quality testing that takes place seven days a week. I learned about the production of reclaimed water for irrigation and other non-drinking uses. It was truly an eye-opening experience, one that made me realize there was a big hole in the watershed education picture I had been presenting to people.
My biggest "aha" moment came when I learned that LOTT's electric bill for one month alone is around $100,000. I started making the connection between wastewater treatment costs, energy demands on Pacifi c Northwest power plants (30% of which are coal or gas-fired,) and climate change. I always knew we should be conserving the water coming into our homes in order to protect aquifers, but I never thought about the impacts of all the water leaving our homes and going to a treatment plant where it takes a huge amount of energy to clean it up. That's a pretty important piece of the picture.
LOTT has had an active water conservation program in place since 1997, working in partnership with the water utilities of Lacey, Olympia, and Tumwater. Of course, water conservation is good for local lakes, streams, and rivers – the less water that is pumped out of our groundwater aquifers, the more that remains to feed our surface waters. Water conservation also makes sense on the wastewater side of things, for a variety of reasons. By reducing flows to the wastewater treatment plant, we can stretch our existing treatment capacity and delay the need to build costly new treatment. But we also cut down on the amount of pumping that is required at our existing plant, saving energy, reducing power costs to the utility, and improving our carbon footprint.
So now, when people come to the WET Science Center, they have an opportunity to learn how much water they use every day and how it gets cleaned up. Everybody goes home with a free shower timer along with a better understanding of how water cycles through our built environment and why we need to conserve this precious resource. And, they get to learn all of this through really fun, interactive exhibits like the "Giant Calculator."
The WET Science Center is open Monday through Saturday, from 10 to 4, except for holiday weekends, and it's free. A schedule of special Saturday activities can be found in our newsletter available online. To learn more, visit http://www.wetsciencecenter.org watch our video, check out our newsletter and education menu, and then come on down for a visit. You, too, can get "the rest of the story!
Back to Home page.