"a bi-monthly journal of environmental news and commentary..."
The Struggle to Improve Water Quality For all Species, Not Just For the Shellfish Industry's Commodities
By Laura Hendricks, Cascade Chapter, Sierra Club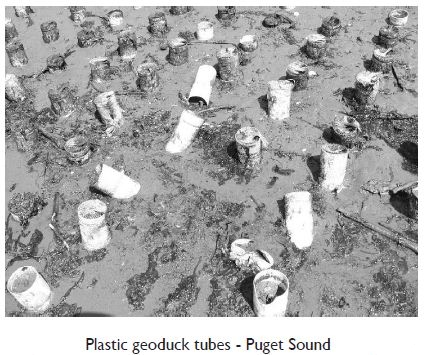 It seems that everywhere we turn we hear about the importance of water quality and quantity. Range water wars were common in the Old West when one rancher would try to divert water from other ranchers especially during drought. While we are not in the Old West, Puget Sound has its own struggle between citizens who are seeing new intensive industrial aquaculture practices degrading water quality as they expand throughout South Puget Sound, and large scale shellfish corporations who are telling the public that they are improving water quality. So who is right on this issue?
For decades, the shellfish industry has compelled decision makers in Washington State to require tougher regulations on septic tanks and sewer systems so the shellfish they sell is free from bacteria. At the same time, citizens throughout South Puget Sound have been providing scientific studies and documenting the degradation. Native species including star fish, sand dollars, various crabs, birds and fish are eliminated from beaches because they are considered "pests." The shorelines are scraped clean of vegetation essential for fish; the waters are murky from sediments due to ongoing intertidal geoduck operations; native fish eggs and larvae are consumed by artificially and unnaturally high densities of cultured shellfish added by the acre, and key prey species for endangered salmon are reduced.
The false rhetorical phrase the shellfish industry routinely publicizes is that they are "cleaning the water" with cultured non-native shellfish that have been added in high densities to our shorelines. In reality, shellfish are not actually "cleaning the water." Shellfish are filtering the water of small animals and algae. Scientists are now pointing out that "clean or clear water" is also an indication of marine water that has no nutrients or life that is essential for healthy native species conservation. Thus, shellfish industry claims of "clean water" benefits are essentially public relations hype. There are no research studies to support the claim of "clean water" or any ecological benefit from farmed shellfish in Puget Sound.
The Washington Department of Ecology is tasked with the duty of controlling and preventing pollution in our state waters. RCW 90.48 requires "to maintain the highest possible standards to insure the purity of all waters of the state consistent with public health and public enjoyment thereof, the propagation and protection of wildlife, birds, game, fish and other aquatic life." Under the Marine Water section, WAC 173-210A0210, the rules list "uses" that are "designated for protection" with the first uses listed being Aquatic Life uses and a requirement for "all indigenous fish and non-fish aquatic species (to) be protected." With these laws in place, why has the shellfish industry been allowed to expand their industrial practices? The simple answer is just follow the money.
The National Oceanic and Atmospheric Administration (NOAA) has targeted Washington State for "opportunities for aquaculture growth" for both finfish and shellfish aquaculture. Their vision of our state waters filled with fish farms and high density shellfish operations blindly overlook the diversity of our native species that Washington is known for around the world. Our one of a kind natural habitats and marine waters essential for the survival of all species cannot continue to be converted to industrial operations for the benefit of one industry. The shellfish industry's gain should not be at the expense of other stakeholders that depend on a healthy Puget Sound.
The Sierra Club supports improving water quality so it is safe for citizens to swim and consume fish and shellfish. Industrial users of our public waters are legally obligated to adhere to all of the water quality standards that protect our native species and the shorelines they call home, not just promote those that are profitable for them.
We have endorsed the efforts of the Case Inlet Shoreline Association as citizens from all over Washington have funded the geoduck aquaculture appeal at the Shorelines Hearings Board. In addition to the shellfish industry, citizens are now challenging the Department of Ecology who intervened on the shellfish industry's behalf. Residents are also grateful that Thurston County is now requiring a permit for geoduck aquaculture despite legal challenges by Taylor Shellfish and Arcadia Shellfish. The citizen's goal is to turn back the tide of industrial privatization of the public trust shorelines of Puget Sound and the degradation of our native species, their habitats and water quality. Citizens have been pointing out this destruction for more than a decade to county, state, and federal officials. The fight is now being taken to the courts and will last until our treasured species are protected. Please join us and contact us at: MarineEcosystemCampaign@gmail.com
Laura Hendricks is a member of the Water and Salmon Committee, Cascade Chapter of the Washington Sierra Club.
Back to Home page.