"a bi-monthly journal of environmental news and commentary..."
Nash Metropolitan: Going Green 1950s-style
By George Ormrod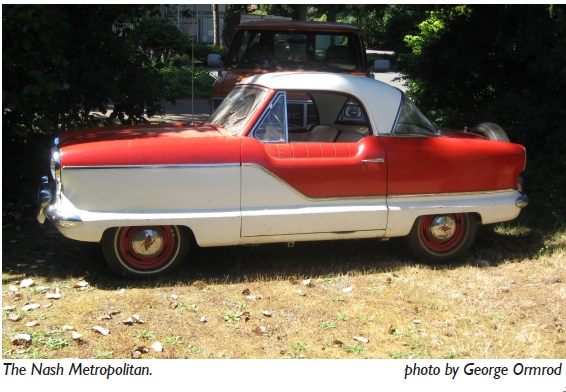 Back in the 1950s when gas was cheap and performance was king, Nash Motors (which later became American Motors) introduced a very cute and tiny economy car that got up to 40 MPG. This was the Metropolitan. It was designed and styled in the USA but made to Nash specifications in England. Its body style is based on the rolling bathtub Nash designs of the early to mid 1950s. The Metropolitan's engine is a fairly common Austin 4 cylinder design - the same as what most 60s and 70s MGs use. The car is basically a two-seater but has a make-believe bench seat in the back.
Someday soon I hope to be tooling around Olympia in my 51-year-old car getting gas mileage better than most modern subcompacts. Repairing the clutch is about all it needs to be roadworthy. Fortunately, the Metropolitan has a relatively strong fan base and most parts are still available. It is also a very simple car, so repair and restoration is within the means of anyone with a little talent and some time on their hands. Metropolitans are still affordable: decent hardtops can be had for under $5000 and convertibles for about 30% more. The car is said to be able to reach 80 MPH, however I may never be so daring. This car was made before airbags, shoulder belts or in many cases even lap belts. The Metropolitan weighs about 1800 pounds and puts out all of 52 horsepower. The price new was about $1700.
The little Nash was introduced partly to be competition for the recently imported VW Beetle. It was shorter than a Beetle and had better performance and fuel economy. A very happy looking car and cuter than a bug's ear, most Metropolitans were painted two-tone ice cream on a stick colors. Sadly it never really caught on. The car was just too small and only practical as a family's second car. Only about 90,000 were made in its nine-year run from 1954 to 1962.
George Romney, presidential candidate Mitt Romney's father, was president of American Motors at the end of the Metropolitan's production run. By 1960, all of the major American auto manufacturers had economy cars on the market and VW was outselling the Metropolitan by a wide margin. There were even one million compact Chevrolet Corvairs manufactured in the 1960's. For those who are too young or don't remember, the Corvair had an aluminum air cooled horizontally opposed engine in the rear and was unsafe at any speed according to Ralph Nader. (I have a 1963 Corvair that has not flipped over or crashed in its 48 years of existence...).
Cars of this era had absolutely no emission control devices, which is either good or bad depending on your perspective. Early emission controls, which were just tacked onto existing engine designs, were rarely good for the performance, ease of servicing or longevity of engines. In reality, my Metropolitan is just a toy and probably will not see much use. Nevertheless, don't forget to wave if you see a Metropolitan driving by-they make friends that easily.
For more information go the Metropolitan Owners Club of North America's website: http://www.mocna.us
George Ormrod of Rochester is an antique car collector and restorer. His 1960 Metropolitan is his latest project, as well as keeping Janine Gates' classic '81 Honda Express scooter in tip-top shape.
Back to Home page.