"a bi-monthly journal of environmental news and commentary..."
Elegy for the Washington State Campus Native American Story Pole
By Jack C. Rice
(Carved by Chief William Shelton and other members of the Snohomish Tribe; erected May 14, 1940; removed November 3, 2010)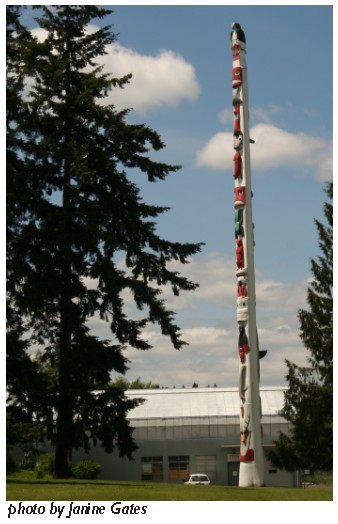 I
Hail! Brothers and Sisters - good tidings.
I mean no offense.
May I find the proper words for your ears.
Forgive any trespass...
The old story pole is down
rotted inside, unsafe;
we cut it into sections to be dried,
preserved somewhere
inside
And we recall ones here before us,
our shared fates
and tribal limits
of humanity
II
The insides of the pole are broken up,
wet and decayed, the natural way of course,
for Thuja poles - lying or standing.
We won't make much of it -
the irony, the metaphor, or like;
and our part in the process of it all.
I wish I'd watched more closely
and remembered
animal figures carved along its mighty height,
the grimaced faces, red and white.
The location was the thing for me;
on the stately campus hill,
pointing skyward from the open green;
encircled by young cedars, rising Douglas firs.
all else seemed so incongruous; the shorn grass,
foreign trees, the huge domestic dome,
dense stone office buildings blocking;
even the Christian church spire to the east
(Now also tiny and on margin)
For, in my mind the darkened shape and shadows
bespoke a fine old path and those who lived it proud -
Though gone, it stood ever-present in my heart.
I thought of weeping, crying out the grief,
the end of wild nature and romance,
of customs loved and lovely -
I am sad and sad and sad...
III
Last symbol of a former way
when I walked by the other day
only a six foot standing core
a remnant, an abandoned yore
Yet, then, I saw the storied pole once more -
granted love could ever hold its store -
For I could see we need not leave it broken,
fallen down in pieces, a mere token.
Like nurse logs it has been reborn,
given nurture to new life, once torn,
has salvaged salmon, land and water,
spider, eagle, bear and otter,
has found persistent ways to say
the remnant of the glory day
May it live on - outside and in
and teach us old ways to begin...
Back to Home page.