"a bi-monthly journal of environmental news and commentary..."
"As Long As the Rivers Run" – Highlights from the SPEECH Special Event
By Janine Gates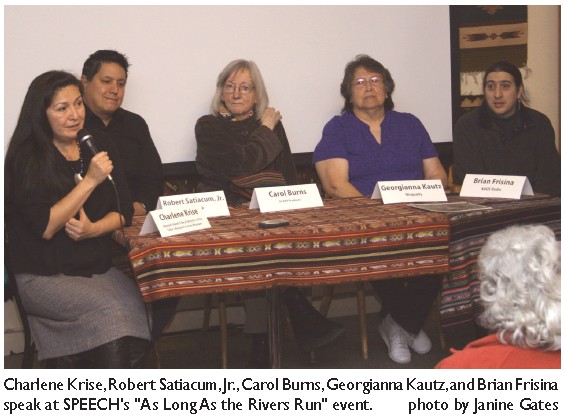 In December 2010, SPEECH sponsored a special event, showing the historic film "As Long As the Rivers Run," which documents local fishing rights struggles prior to the Boldt Decision. The event packed the house at Traditions Fair Trade. A panel discussion with several speakers provided the audience with powerful words and thoughts. SPEECH would like to thank our speakers for their words of wisdom, SPEECH board member Steve Robinson for emceeing the panel discussion, our community for attending, and Traditions owner Dick Meyer for hosting the evening. The event was also a SPEECH fundraiser and we gathered $250 in much appreciated donations.
The following are excerpts from the evening, with many speakers reminiscing about the struggles to fish in traditional places in the 1960s and 1970s:
"It was like a battle zone out there while I was fishing -- people were so angry. I know the sounds of gunshot. Our tribal people have had guns pulled on them. One day it was raining. I was in raingear and threw an anchor down. My hat fell off and the guy looked at me and he was so sorrowful because I was a woman. He was horrified. His buddy pulled out a knife. So many incidents. So many more things that happened at that time. It was difficult to be Native American. We had Billy Frank. He was our protector. He was our mediator. It took constant education, what these treaty rights really meant and how we gave up acres and acres of land. Because of all those times being out on the water, you couldn't help but see beyond the beauty. I would be thinking about the ancestors, and what they would be doing."
- Charlene Krise, Squaxin Island Councilmember and Director of the Squaxin Island Research Center and Museum
Satiacum spoke of his mother. "She's stuck in that time period - it has emotionally disturbed her -- the beatings, the fights and struggles that she encountered. She scratched a game warden real bad and she has guilt. I have this anger for what was done to our women. And now (the struggle) still goes on and now it's a shellfish struggle."
- Bob Satiacum, Jr is a Puyallup Tribal Member and a radio host at KLAY 1180 AM
"Billy Frank is my brother-in-law. I'm so grateful that our tribal elders had the right to hunt, fish and gather shellfish. When the Boldt decision came about they still didn't like that. They'd be there with guns, sticks, rocks and we'd be there with them. Our tribe was condemned by Fort Lewis. They gave us money to make that work, but still we had to go to court for shellfish.The next thing is hunting rights. It's our culture, tradition and subsistence. But we have to educate the government and the senators. I'm grateful Billy likes to fly because we never know where he's going to be.
Nisqually is the center of our universe. A lot can happen when everyone works together - Wilcox, farmers, breaching dikes. We can't do this alone – it's our way of life, your way of life, it's for our children. Everyone has to know what this history is. People across the country are looking at what we've done. I want to leave something for my grandchildren. Billy will be 80 in March and he still comes to the river to fish. I get to see the changes and what can be accomplished. There are lots of positive things happening. [To fish] is a treaty right and we'll protect it. Make no mistake, we have qualified lawyers in Indian law."
- Georgianna Kautz, natural resource manager for the Nisqually Tribe, graduate of The Evergreen State College and a commissioner to the Northwest Indian Fisheries Commission
When asked about the health of Budd Inlet and the former Cascade Pole site, now called Northpoint, Kautz said, "We did surveys on tribal people because we were concerned about what they were exposed to - pulling up nets in Budd Inlet - disgusting things – we'd wear gloves. It's not just what you see, it's toxins in the water. As a child, I remember eating flounder with lesions on them. Engine parts in our beautiful Puget Sound -- there are many stories. It's not easy being out there fishing. The waters call us – we're in a sacred place - we feel it - it touches us. We're there."
"Why remember? If it wasn't for you (Frisina, speaking to the other panelists), I wouldn't be here -- if the fish can't live, we can't live. Elders come in and speak and tell us how they live and what we need to do. That's why I'm here. Never forget the sacrifice. Somebody gave their life for me to do that. We live in a society where people have forgotten how to be a human being. Understand that we have to live together. The earth is not a resource, it's a source of life."
- Brian Frisina, aka Raven Redbone, hosts a show called Make No Bones About It on KAOS 89.3
"A lot of authentic friendships were made..."
- Carol Burns, filmmaker of "As Long As The Rivers Run," and a founder of Thurston Community Television.
Burns also reviewed how she filmed the footage from 1968 - 1970, capturing images and history for a film that has stood the test of time.
Janine Gates is president of SPEECH.
Back to Home page.