"a bi-monthly journal of environmental news and commentary..."
The Evergreen State College and Biomass Research
By Scott Morgan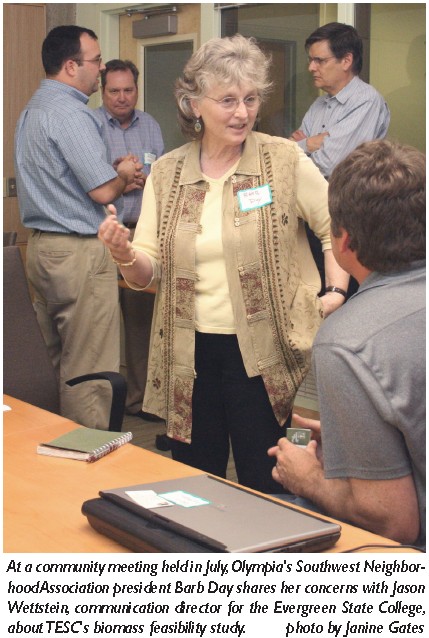 The Evergreen State College recognizes the seriousness of greenhouse gas emissions and climate change impacts. We also recognize the powerful and positive impact that we have as a higher education institution with a reputation for environmental advocacy and leadership. The Evergreen State College made a commitment to Carbon Neutrality by 2020 as part of our larger commitment to lead and model the changes necessary for a sustainable future.
Carbon neutrality simply means that the rate of our operational greenhouse gas emissions is equal to the rate of new sequestration of carbon dioxide. In the strictest sense of carbon neutrality, sequestration should also be additional to what would have occurred under the status quo. Our plan to reach carbon neutrality contains three strategic phases:
Reduce overall emissions through energy conservation and waste reduction;
Replace fossil fuels with renewable energy technologies to end the release of geologically sequestered carbon; and,
Offset remaining emissions through carbon sequestration strategies. -}

We have a vision for developing a Renewable Energy paradigm which counters the traditional energy model – in which local resources are extracted by external parties and removed for the benefit of other external parties, while the negative impacts of extraction remain with the local communities. We are taking a system-wide perspective on energy.

We've asked how this paradigm could positively transform ourselves and our region. Recognizing that energy issues extend beyond technology, geography, and bio-systems, we're also considering the impacts on our communities. Renewable energy is local rather than global, and it could lead to a radical transformation of the American energy paradigm. We feel that the social dynamic within our communities is just as important as the technical and environmental dynamics. Defining our energy solutions is also an opportunity to develop and model a positive renewable energy paradigm.

Our energy vision is:

Non-exploitive – energy extraction processes have minimal environmental and social impacts;
Capacity building – energy strategies contribute to long-term growth in capacity for future generations;
Local – resources are locally available, locally managed, and have local effects. -}

What we have discovered in our research so far is that renewable energy sources are very dependent on local conditions. Most regions have at least one outstanding renewable resource, but not all resources are reliably available in all places. One outstanding resource available in our region is biomass because it grows quickly and prolifically. Our research indicates that biomass can be a valid renewable resource assuming certain conditions are met:

It is a by-product stream from existing operations (forestry thinning or slash) so that land and resources are not being dedicated solely to create the energy crop.
New growth balances or exceeds what is being extracted. #} In light of those criteria; size matters. Small projects for local effect can allow for continuous renewal of the fuel source without overtaxing the environment.

Leading colleges, environmental and research organizations around the country, including Green Mountain College, The Pacific Institute, the Natural Resources Defense Council, among others have noted that appropriately sized, sited and operated biomass energy facility may be a viable option for renewable energy. We are exploring biomass gasification to evaluate whether it can work for us in our context and according to our values that place primary importance on greater sustainability and achieving climate neutrality.

Gasification is more complex, and more expensive than a simple wood-fired boiler. It is a two-stage process that separates the ash/char from the fuel (synthesis gas) prior to combustion. As a result, it is much cleaner than direct combustion, it holds some advantages over burning fossil fuels, and fits well with our existing campus heating infrastructure.

Our on-going feasibility study will clarify and verify the research that we are considering so that we may make a final decision on whether or not to proceed with this project – with the continuing goal of achieving carbon neutrality.

Scott Morgan is Director of Sustainability at The Evergreen State College.

Much of the background information on Evergreen's sustainability efforts can be found at the blog maintained by the coordinator at http://blogs.evergreen.edu/sustainability/biomass




Back to Home page.