"a bi-monthly journal of environmental news and commentary..."
Modern Wilderness-based Rites of Passage
By Krag Unsoeld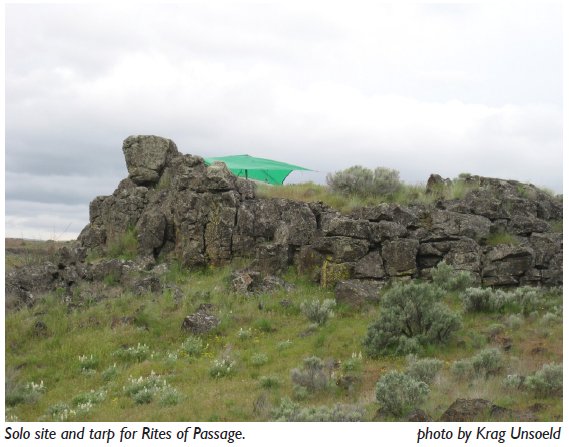 Rites of Passage are ceremonies and rituals that are used to usher individuals from one stage of life to the next. They can be used for infancy to childhood, for childhood to adulthood, for adulthood to elderhood, and even to prepare for death. It is a tradition that existed in all cultures, but has largely been lost in modern, industrial cultures. Rites of passage serve to move an individual into their next stage of life, but also to consolidate connections to nature.
I was fortunate to do a Rite of Passage (ROP) training at the end of April. This was conducted by Washington State University through the 4-H Program. 4-H bills itself as the nation's leading youth development program in the U.S. They use "developmentally appropriate practices and research-validated curriculums that promote life skills and core learning for competent, healthy maturing youth." The 4-H Rite of Passage Program is a recent addition to their challenge programs, which includes individual and group initiatives, such as those found in ropes courses and portable challenge programs.
The 4-H ROP program was developed with assistance from The School of Lost Borders in California. They have provided training and Rites of Passage for over 30 years. Their program originally started as part of an effort to provide socially acceptable and individually appealing experiences for troubled youths in the Bay Area. It has now spread internationally.
As stated on the 4-H website (http://king.wsu.edu/4h/rite/About4-HandRiteofPassage.html): "Culturally appropriate rites of passage from adolescence into adulthood are critically important. Without accepted and honored ceremonies, adolescents are initiating each other into adulthood using the symbols of "maturity" that they see as the privilege of adults around them: alcohol, drugs, violence, and sex."
The Process
The 4-H ROP uses a wilderness vision fast as the process for transitioning. It is generally three days of fasting in isolation in the wilderness using minimum shelter (a tarp instead of a tent).
There are three phases or steps for the vision fast. The first is Severance where the student accepts that it is time to leave the world as you know it. The second is Threshold, or the time that the student spends alone. Finally, there is Incorporation, where the student settles into a new life in their new role. This is by far the hardest part of the ROP. There is often backsliding and other forms of difficulty maintaining the new role. This is especially true in a culture that does not fully embrace the ROP, and whose members thus do not provide support and understanding for the newly initiated adults or elders.
Ceremonies and Rituals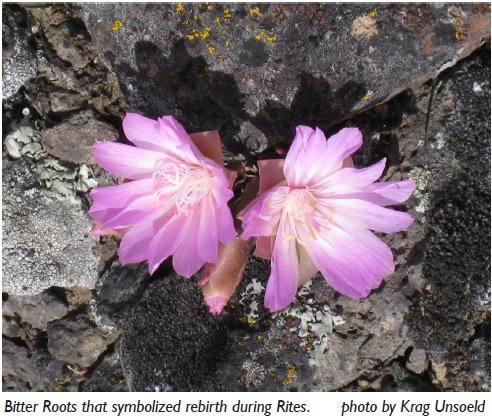 Every participant is encouraged to use ceremonies and rituals to mark their transition. At the beginning of the process, facilitators, or guides, explain the process, provide an overview of ceremonies that can be used, and assist the initiate in developing a statement that marks their intent crossing over the threshold. For example, a participant could simply state that their goal is to become an adult, to act responsibly, and to seize the initiative to provided guidance to youths.
Ceremonies that 4-H teaches use a Native American medicine circle, with each of the four compass points having a shield that emphasizes different stages of development (death/birth, childhood, adolescence, and adulthood), different parts of an individual, different colors, different emotions, different animals, etc. The use of these ceremonies is optional. Individuals can make up their own if they so choose.
The four steps and ceremonies that 4-H offers you to consider are:
Decision Road: This is where you decide that you do want to move to the next level of your life. One way this can be viewed is that you are opening yourself to personal death.
Death Lodge: Indigenous cultures are very intentional about how one dies. The death lodge provides an opportunity to invite relatives, friends and associates in to say goodbye and whatever else needs to be said so that there is no unfinished business.
Purpose Circle: This is the ceremony that symbolizes rebirth – to your earth mother. It usually entails watching the sun set and then singing and chanting (to stay awake) until the sun rises.
The Great Ball Court: This ceremony symbolizes the ancient Mayan or Aztec version of basketball. It takes place during the Incorporation phase of the ROP. It is considered a chance to live your life in your new role in such as way as to make you and your ancestors, your family, your friends, and your community proud. #}

The Results

Individuals who participate in a ROP program will finish the program with new insights into themselves and their role in life and their relationship to family, the community, and to nature. Although this sort of program is traditionally spiritual, it does not have to be conducted in this way. It is totally up to the individual as to how they approach and structure their ROP.

This type of program could serve as an important experience for many youths in our culture who are otherwise heading for failure in school and the job market. With the proper social support systems to back up the transitions that occur, this type of tradition could strengthen our both our culture and our connection to ourselves, each other, and nature.

It is also beneficial for adults. I marked my passage from adulthood to becoming an elder during my ROP.

Krag Unsoeld is a board member of SPEECH. He recently attended a Rites of Passage program through 4-H.




Back to Home page.