"a bi-monthly journal of environmental news and commentary..."
Sustaining the Commitment - Sustainable South Sound
By Sustainable South Sound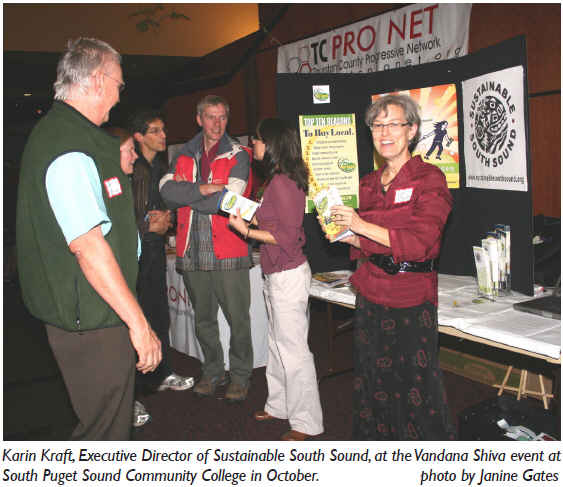 A great many changes are needed in the way we as individuals and a community conduct our lives if we are to thrive now and in the future. This is the essence of the sustainability challenge we face. Sustainable South Sound (SSS) is the regional non-profit organization whose mission is to help facilitate the transformation to sustainable community in South Puget Sound. Founded in 1992 as Sustainable Community Roundtable, the group has carried out its mission through a number of initiatives and projects over the years. Now under the SSS banner, we are expanding our reach and effectiveness through two programs that have just emerged in the past year and a half – the Buy Local and Urban Agriculture programs.
The Buy Local Program increases awareness of the environmental, economic, and social benefits of spending money at local, independently owned businesses. Now entering its second year, the BLP is led by Marie Poland who brings years of experience with the Olympia Food Coop, and entrepreneurial endeavors including her own project, the "Your Money Matters" local business coupon book, to the effort to develop and promote the local economy. She is assisted by local environmental advocate and businesswoman, Thea Davis. The program has grown since its inception in 2008, and has been a strong presence across the region with an annual kick-off event, networking and education events for Local business owners, and promotion of buying locally to Thurston County consumers. Each year, a Savings book is published and distributed with coupons to save money at participating local businesses. A business advisory committee plays a critical role in the growth of this project, and the BLP is ready to create even more visibility for local business in 2010.
The Urban Agriculture Program is just completing its first year of growing good food and a stronger community. The goal of the project is to increase the amount of food grown on private property and public space by advocating for changes to public policy, providing information and resources, and building a vibrant network of urban farmers. TJ Johnson, with his wealth of knowledge of community organizing and local policy making, coordinates this effort which includes many community supporters and volunteers. The project has already supported the founding of two new community gardens (The Wendell Berry Community Garden in Olympia and the Lacey Crossroads Community Garden in Lacey), and plans to plant more seeds and put down more roots over the next year. In 2010 the Urban Agriculture program will be working with the Olympia Seed Exchange, Garden Raised Bounty, the Olympia Food Co-op and others to present a series of workshops, tours and other educational events. Look for more details soon.
Rounding out the core of Sustainable South Sound is the Indicator Project, a long term effort involving significant public input and collaboration with other organizations. This project will also continue, producing information about various important aspects of our community (education, health, transportation, etc.) to reveal how they are trending and affecting social, economic and environmental sustainability. Carole Richmond is currently coordinating the effort to update our sustainability indicators.
If you would like to contribute to SSS, either as a board member or project volunteer, or through a tax-deductible donation, please contact us through our website [http://www. sustainsouthsound.org] or through one of the project leads or Board members listed below.