"a bi-monthly journal of environmental news and commentary..."
RePower Washington
by Various Authors
Let's build a clean energy economy, create new green jobs and reduce global warming pollution
Two huge challenges—the economic crisis and the climate crisis—share a common solution. By repowering and rebuilding Washington with clean energy, efficient buildings, and transit-oriented communities, we can stimulate our economy while cleaning up the pollution that threatens our way of life.
Real climate change solutions are real economic solutions for Washington. We can meet today's challenges and build a healthy, clean-tech economy for our children's future. The following proposals will reduce global warming pollution while we create jobs, grow our economy and build healthy, livable communities.
Cap and Invest *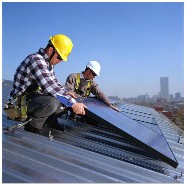 By implementing real limits on global warming pollution, we can create new jobs and stimulate the growth of a clean energy economy here in Washington State. This effort implements the cap on climate pollution the Legislature adopted last year. Emitters would pay for pollution permits, and the new revenue would be invested to reduce fossil fuel dependence, create green jobs and spur new clean-tech innovation, while providing assistance to moderate- and low-income households struggling with high energy costs. Through state action, we can reduce global warming pollution in a manner that benefits Washington's economy, protects Washington's interests in the national climate policy debate. and positions us for success in the new clean energy economy.
Contact: Becky Kelley, becky@wecprotects.org
Efficiency First *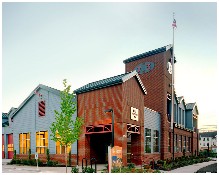 Promoting energy efficient homes, businesses and public buildings will save money, enhance energy security, and significantly reduce global-warming pollution. Energy efficiency is the cheapest and most immediate way to reduce greenhouse-gas emissions and will create thousands of good, family-wage jobs in Washington. This bill will put "efficiency first" by promoting super-efficient; low-energy-use buildings; providing incentives to maximize energy efficiency; requiring energy use information on buildings offered for sale or lease; and making our public buildings models of energy efficiency. This policy will also help to ensure that low-income consumers can cope with rising energy costs.
Contact: Carrie Dolwick, carrie@nwenergy.org
Transit-Oriented Communities *
Washingtonians want to live in affordable, walkable and transit-oriented communities. With population growth, we are facing more traffic congestion, diminished quality of life, and ever-increasing greenhouse gas emissions. Transit-Oriented Communities would revise the state's transportation and land-use planning framework to help local jurisdictions plan for growth in a sustainable and climate-friendly way. The bill will provide incentives for cities and developers to create affordable, livable, transit-oriented development, increasing transportation choices.
Contact: Shefali Ranganathan, shefali@transportationchoices.org
* - denotes 2009 Environmental Priority
Green Jobs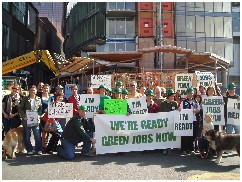 To power our growing clean energy economy, Washington businesses need trained workers. Thanks to the leadership of the Governor and Legislature, Washington is uniquely positioned to lead the nation in economic recovery by building a new energy economy while creating thousands of family-wage green collar jobs. A small investment by the Legislature will provide the kick start needed to ensure we have workers trained and ready to do the work needed in the new economy. Washington's industries are already reporting a lack of skilled workers to hire – investing $10 million in the Green Jobs Training Program will close this skill gap, put people to work and strengthen our economy.
Contact: Contact: Jessica Finn Coven, jessica@climatesolutions.org
Clean Energy Tax Credits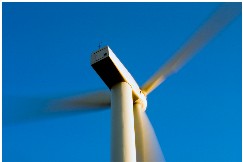 Washington's tax incentives to develop clean energy projects -- such as solar, wind and landfill gas -- are set to expire in June 2009 unless the Legislature votes to renew them. These incentives have been critical for the development of new renewable projects in our state, from solar panels on homeowners' roofs to large wind projects in eastern Washington. The wind projects in particular have resulted in significant new economic benefits for both rural counties and the state. Three wind projects completed during 2006 resulted in $1-2 million in annual royalty payments to rural landowners, $2.9-$3.3 million each year in local property tax revenues, 700 jobs during peak construction periods and over 40 permanent family-wage jobs for operation and maintenance. To keep these opportunities growing in our state – and not lose them to Oregon -- we need to extend renewable energy tax incentives at their current level until at least 2015.
Contact Carrie Dolwick, carrie@nwenergy.org
I-937: The Clean Energy Initiative
This will be the first legislative session in which I-937 may be revised by simple majority rather than a two-thirds vote. Legislators should consider strengthening–certainly not weakening–the initiative's renewable energy and energy efficiency provisions. Oregon, for example, passed a 25% by 2025 renewables standard in 2007, and six other states increased their existing renewable energy standards last year alone. Legislators should respect voters' decision to increase development of clean and affordable energy, and acknowledge that I-937 is critical to meeting the state's climate action targets. In fact, I-937's efficiency standard and renewable energy standard will do more to reduce greenhouse gas emissions than all other existing policies combined. Our fossil fuel dependence is hurting our economy and clean energy policies that reduce global warming pollution will help us take control of our energy future and stabilize fuel prices.
Contact: Carrie Dolwick, carrie@nwenergy.org
Clean Power
Washington passed an emissions performance standard (EPS) during the 2007 legislative session. SB 6001 established a limit on the amount of greenhouse gas emissions emitted by baseload electric generation either owned or contracted through a long-term financial commitment by utilities. The law's intent is clear: to prevent more dirty coal plants and other high emitting resources from serving Washington needs. But during the law's rule-making process issues emerged that question whether the standard applies to out of state resources and for contracts. These issues need to be addressed in the 2009 session to insure the intent of the law is maintained and implemented.
Contact: Carrie Dolwick, carrie@nwenergy.org
Back to Home page.