"a bi-monthly journal of environmental news and commentary..."
"Cap and Trade" Comes to Thurston County
by Thea Davis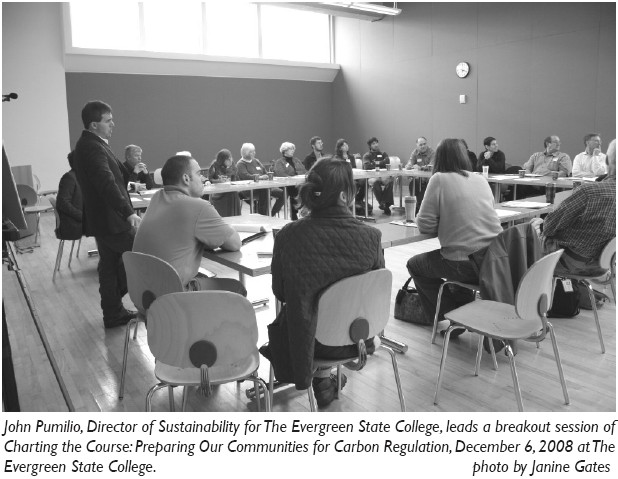 If there was ever a need to understand and speak up on the carbon policy that will affect all of us, now is the time. The Western Climate Initiative (WCI) just completed its final proposal, and while this represents a gigantic step in the right direction, there's more work to do. WCI's final report to cut emissions in our region is still being reviewed, and public comment is critical.
In December, the Thurston Climate Action Team (T-CAT) brought together an unprecedented meeting of local leaders to learn about these critical issues. A symposium, Charting the Course: Preparing Our Communities for Carbon Regulation, was hosted by The Evergreen State College Office of Sustainability. A diverse and impressive group of local elected officials, business leaders, citizens, and environmental advocates attended. For information on additional sessions for various stakeholders, please visit the website at: http://www.evergreen.edu/sustainability
The intent was to build understanding on how to implement the new "cap and trade" plan proposed within the WCI report. Throughout the day, the assembled group came to realize the power and importance of collaboration around the issues. They shared common struggles in finding strategies for adjusting to change. Amber Wells of Thurston County Solid Waste summed up the group's optimism at the end of the day. "This is a really exciting time for all of us to partner in ways we never have before," she said.
Peter Dorman, economist and Evergreen faculty member, kicked off the seminar with a powerful overview of the WCI. He outlined a number of potential improvements to the final proposal, and commented that government should attend to the "mechanism" by which carbon policy is delivered. "If we get the architecture wrong, it will be very difficult to change it," he warned.
Basics of the WCI: What you need to know!
WCI is a collaboration of seven U.S. states and four Canadian provinces working to build a regional carbon 'cap and trade' system; it is projected to go into effect in 2012. "Cap and trade system" means, for the first time, industry pays for carbon emissions beyond voluntary carbon offsetting. The government places a cap on overall carbon emissions for the region. Polluters then trade their right to pollute on the free market.
The Regional Greenhouse Gas Initiative (RGGI) on the east coast has already activated their program, and was the first in North America to do so. Their focus is on utilities, while the WCI will initially include utilities, then add major industrial users, and finally transportation.
But the plan is full of problems that may make it ultimately ineffective, and favor the interests of industry rather than the public. Dorman commented that WCI is clearly "wheeling and dealing," creating infighting on whose carbon use is most "indispensable." This reveals WCI's underlying motives. To make the cap and trade system truly effective they need to put more emphasis on the public interest.
During breakout sessions, Justus Stewart of the International Council for Local Environmental Initiatives (ICLEI) addressed how local businesses and government can use the carbon assessment tools to fit within the proposed regional cap and trade system. He emphasized the main gauge of success comes with the accuracy of local emissions assessment and reporting. Because they will be integral to the WCI's regional plan, local jurisdictions will use the Climate Registry's "Protocol," the only standard for reporting local emissions.
In a second breakout session, Beth Doglio of Climate Solutions explained that the environmental community has chosen "Cap & Invest" as one of four environmental priorities for this legislative session. It is important to speak up and support this legislation. (see related article)
Citizens and local officials need to be a part of developing the WCI program which is based on input from stakeholders. Paying to pollute means big change, and we should expect that certain powerful private interest groups will attempt to divert policy into directions that are lucrative for them and bad for the environment and the general public. Thurston County is beginning to chart this course, and it will take attention from all of us to make sure we stay on track.
Thea Davis is a former South Sound Green Pages staff and board member, and is now active in environmental community organizing in the South Sound. She can be reached at thea@cre8tives.org.
Key Resources on Cap and Trade
Educate yourself and take part in this year's legislative session, starting Jan. 12, 2009!
Back to Home page.