"a bi-monthly journal of environmental news and commentary..."
Déjà vu All Over Again
By Bob Jacobs, Member, Friends of the Waterfront
"Déjà vu all over again" is how Yogi Berra would have described our current situation.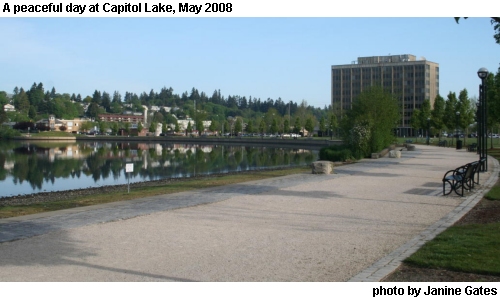 Just six short years ago, an attempt was made to rezone the isthmus between Capitol Lake and Budd Inlet to allow massive residential structures to be built there. It was beaten back by a huge protest from all parts of our community.
But here we are again, this time with even more audacious plans. Triway Enterprises and other property owners have requested that the current 35-foot building height limits in this area be changed to 65 feet and 90 feet. With full block coverage, sidewalk to sidewalk, this could result in buildings far larger than any buildings currently in downtown Olympia.
Triway touts the environmental advantages of such structures. They point out that hundreds of housing units in this location would further the goals of the Growth Management Act. Everyone agrees that additional housing downtown would be advantageous in saving forest and farm lands, reducing travel, etc.  But the same advantages can be achieved anywhere in the downtown.
The isthmus area is a critical location for the health of the downtown and our state capital community. Our beautiful Capitol campus was designed to take advantage of these views across this area.  The openness and natural light created by low-rise zoning are critical to the public's enjoyment of the entire area (including the Heritage Park fountain) and community events like Arts Walk, Lakefair, Harbor Days, and the Wooden Boat Festival.
The Growth Management Act does not condone the loss of such vital amenities. In fact, it is obvious that as our population grows, we need more, not fewer amenities. Current projections call for a 50% population growth in Thurston County in the next 20 years: potentially an additional 120,000 people.
There are at least two specific environmental concerns raised by the proposal.
First, the Shoreline Master Program (SMP) amendment that is part of the proposal jumps the gun on the SMP revision that started several months ago. If this proposal were approved, it could set a precedent for loosening shoreline area protections throughout the county. SMP revision should be done on a comprehensive basis, not piecemeal.
Second, if hundreds of million-dollar condos are built on this site, owners are likely to lobby hard against the estuary option for the Capitol Lake basin.
Friends of the Waterfront has been calling for a comprehensive community-wide visioning process to determine the shape of our waterfront area. The general public should determine how this vital area will be used to support the high quality of life we all want to continue to enjoy in Olympia.
The next step in the city's consideration of the isthmus rezone proposal is the public hearing before the Olympia Planning Commission at 6:30 p.m. on Tuesday, June 24, at the Olympia Center. Tentatively, people will be able to sign in starting at 5:30 for a slot to testify.
Meantime, we seek Letters to the Editor in support of our position. We also have yard signs, and window signs available for distribution.
Please visit our website (www.friendsofthewaterfront.org) for all the information on this proposal and links to city files and letters to the editor. See the Images section of the website for interesting commentary on the proponents' misleading graphic depictions.
Back to Home page.