"a bi-monthly journal of environmental news and commentary..."
Local Business Profile: Reflections Gallery
By Janine Gates
Peter Ward has been owner of Reflections Gallery for only seven months, but has a firm understanding of the issues and challenges of operating a business in downtown Olympia.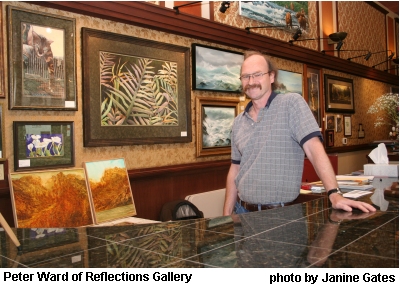 Reflections Gallery is located in the former Washington Federal Building, officially called The Pioneer Building, at 422 Capitol Way S. Olympians know it as the old bank with the white columns on the corner of 5th and Capitol Way. It was so damaged by the 2001 Nisqually earthquake, much of it was covered in blue tarps until last year when repairs were finally completed.
Today it is a beautiful gallery with granite floors to reflect the fine art it now contains. "We invested in the flooring because we wanted quality. The loop carpet the bank had in here just wasn't going to cut it." Ward built panels with gold fabric and invested in lighting. To keep the original interior style, old wood from the teller line was reused to create a display case. "In fact, some of it is also being used next door by Precious Metalsmith's because we couldn't use it all."
An Olympia resident for 11 years, Ward was asked how he got started in the art business. "I worked in the electronics industry and changed careers to indulge my interest in art. I used to paint in the Portland area, but, at that time, trying to make a living at it was not feasible."
"Times are different now though…people recognize and seek out art, whether its visual or performance art... so we (Ward and his wife, Crystal) thought Olympia needed a good quality gallery that filled a niche. We are very different from other galleries. We work with a publisher of national and international limited edition prints by artists such as Bev Doolittle, James Christenson, Howard Terpning, and others."
The gallery also has original local art by artists such as Mary Gibbs of Renton and Ben Hernandez of Gig Harbor, pottery by Quail Creek Pottery of Olympia, bronze work, art jewelry, and more.
Asked how the gallery did at Artswalk, Ward said, "Artswalk was great. There was a good flow of people. It was a lot of fun. A lot of people were new to the gallery so it gave us good exposure."
Business has not been good overall, however. Having a business in downtown has its challenges. The number one issue expressed by local business owners is the lack of parking. Ward agrees and offers other observations.
"I've traveled to other places like Tempe, Arizona. They have a busy downtown district. It's not much bigger than Olympia's, but it is more inviting. People generally drive down Fourth Avenue and State Street to get through town and that's what they see. They think that's downtown, and that's not necessarily a good representation. There are many family friendly businesses downtown that people don't realize are around."
"Some people don't come downtown because they associate the graffiti and run down buildings with certain behaviors, like panhandling. This has been greatly reduced and the Olympia Downtown Association has been working hard to improve downtown. We have a problem with perception. We do have unattractive spaces. People who frequent down here are comfortable, but we need to help those who don't usually come downtown see the positive aspects."
"Olympia has a lot of events, the Wooden Boat Fair, for example. People stayed on Percival Landing and went to the Farmer's Market, but they didn't venture into the inner core. Now that I'm seeing this from a businessperson's end of it, those events don't benefit us as much as I would have hoped."
Reflections Gallery is a participant in downtown's "First Friday," a collective effort by downtown businesses to generate business, and stays open until 9:00 p.m. on the first Friday of the month. "We need to go through a summer season before we see how effective it is. People are going to dinner, and if there are places open, and if they get used to that, then in the winter, they might continue to come."
Asked how he felt about the proposed building height rezone amendment by Triway Enterprises to the city council in an effort to build 141 condos that will retail for $800,000 to $1 million each, Ward said, "I would like to see high quality retail shops and upscale housing that will benefit downtown. I'm not saying that's the solution. I don't know how it's going to be done. I don't want to see anything that will drive out existing housing down here because there is a community here. We need to bring in more businesses here."
"If we had a lot of high end shops downtown with no customers, then they wouldn't last. But if the high end customers live downtown, then within a year, there will be additional high end restaurants, clothing stores, grocery/deli businesses that cater to people looking for gourmet, ready to go meals. I've seen that happen in other places."
During our interview, two women stopped in to ask where the nearest public restroom was located. After we gave them directions to the very long journey several blocks down 5th Avenue to Water St. "to a little brown building by the lake," we said, "Forget it, just go over to Batdorf's a couple shops up and they have a restroom." They thanked us and said they'd be back.
Half an hour later they returned and were very happy because they'd had coffee and dessert. Anna Hilleary from Mission, Kansas and her sister, Liz Freese, from Columbia, Missouri, were in Olympia to visit another sister who lives in Dupont.
"We came to Olympia last night for dinner at Anthony's and wanted to come back to see Olympia when it was light. On our drive through, we saw this building and were intrigued by the storefront. We are avid art lovers and hoping for some wonderful surprises!" said Hilleary.
Taking my cue, I thanked Peter Ward for the interview and left him to help his potential customers. Hopefully, their visit to Reflections Gallery worked out well for all of them.
Reflections Gallery is located at 422 Capitol Way S., (360) 753-3561, email: peter@reflectionsgalleryonline.com.  
Back to Home page.