Current Projects
Currently, Friends of Artesians are working to preserve the popular well located in a Diamond Parking lot on 4th Avenue between Adams and Jefferson streets. Extensive testing of the well's water quality found it to be pristine. Because the well is very old, its casing was checked using a down-hole camera. The casing was found to be intact. Those who frequent the well will have noticed that new interim piping was installed. The state Department of Health, the state Department of Ecology, Olympia city government and private experts are collaborating to resolve regulatory issues. We look forward to our ongoing partnership with them as we work to ensure the well remains safe, legal and available.
Diamond Parking, also, has been an active and cooperative partner, and has agreed to allow three parking spaces to be devoted to a new well structure and related art. Olympic Outfitters and Rich's Tires, which are adjacent to the well, have agreed to have murals on the walls of their buildings. A team of local artists have collaborated on a design that integrates these murals with sculpture and decorative paving. If we can raise the funds to complete this project, the result will be a tiny, art-filled park that will celebrate this unique and historic public well.
Currently, all donations to Friends of Artesians are slated to be used for this project.
Proposed park: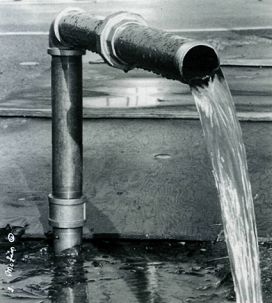 ---
Next item: Why This Well Matters