"a bi-monthly journal of environmental news and commentary..."
Local Farms Help to Build Community
by Mike Peroni, Boistfort Valley Farm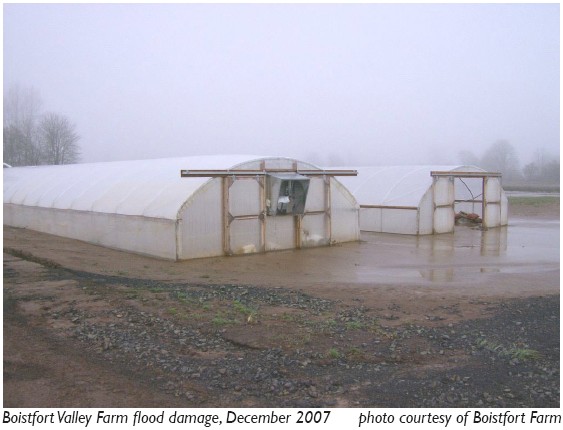 Every day, the morning paper or the bookmarked blog brings an avalanche of reasons to curl back up and put your head under the covers. However, an old cliché reminds me that with challenge comes opportunity.
In my view, it's every human's primordial desire to be in touch with the source of their food and, in the final analysis, what people really want is to contribute to something much greater than themselves.
This said I believe people everywhere are going to prioritize the health of their communities. Small farms, especially those which market directly to their customers, are in a unique position to contribute to the physical, psychological, and financial well being of their communities. We as farmers and business owners need only become aware of the opportunities available.
This quote by C.E. Raven helps guide my thinking and motivates me and the people I work with:
"Three conditions are necessary for true fellowship: The possession of a common ideal involving a complete release from selfishness and division. The discharge of a common task big enough to capture the imagination and give expression to loyalty. And the comradeship, the 'togetherness,' thus involved as we find out the joy and power of belonging to an organic society and engaging in a whole-time service. We can find it at its fullest extent where the ideal is highest and most exacting, where the task extends and integrates every ounce of our strength and every element of our being, where the comradeship is so solid and deep that we respond one to another without conscious effort, realize the unspoken need, and react to it spontaneously and at once.
Under such conditions, all the vitality that we usually waste upon our jealousies and our vanities – upon keeping up appearances and putting other people in their proper place – becomes available for creative use."
I find it inspiring that under these conditions so much of the energy we could easily spend on "outdoing the competition," "gaining market share," or what my friends often jokingly refer to as "an unquenchable thirst for world domination" can be put to creative use.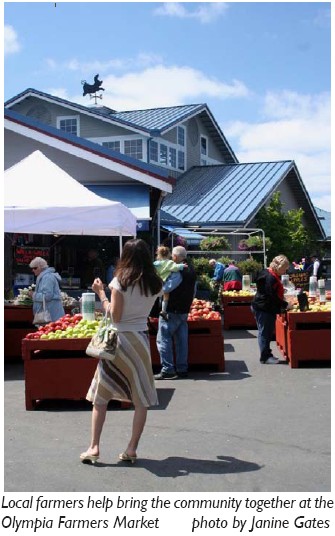 We at Boistfort Valley Farm take our obligation to customers and community seriously. We continue to strive toward a business model that is linked on many levels with our community in ways that go beyond commerce.
We're presently finishing a project made possible with a grant from the Barn Again Program, through the state Department of Archeology and Historic Preservation and the Washington Trust for Historic Preservation. The objective of the project is to restore our barn, circa 1913, to "as-new" condition.
The project is in the abatement stage. We've replaced the foundation and are in the process of straightening out the structural system of the roof and replacing the weathered shingles with metal.
Throughout the project, we've created opportunity for local contractors at a time when the work has been appreciated.
We also drew our customers and community into the project by offering them a chance to participate in the Boistfort Barn Stomp. They came to the farm for a gourmet dinner of local meat and produce and to dance to local bands. Funds raised through the dinner and drawing-ticket sales went toward our part of the match for the grant.
We've also come to realize the impact these old barns have on peoples' spirit. We've enjoyed several stop-bys from long-time valley residents. They've thanked us for restoring a barn that holds so many fond memories for them, in a time when many of these old buildings are being demolished or left to fall in on themselves. You can follow our progress at: boistfortvalleyfarm.blogspot.com.
We're also waiting for news on another grant proposal, which will allow us to take part in a project to restore more than 2,000 feet of riparian buffer along the South Fork of the Chehalis River, where it ambles through the farm.
A partnership of the Chehalis Basin Education Consortium, Chehalis River Council, and Chehalis River Basin Land Trust, their volunteers and students, and the staff of Boistfort Valley Farm has formed to share their commitment to riparian health. The partnership is seeking monies from the National Fish and Wildlife Foundation's Pioneers in Conservation program.
The grant proposal outlines a project that would engage students and community members in the preservation and restoration of this area of the Chehalis watershed, which can be found at http://www.farmland.org/programs/states/WA/PioneersinConservation.asp
Boistfort Valley Farm is also working with Blue Earth Farms, http://www.blueearthfarms.org and our local school district to secure grant money to participate in bringing fresh, locally grown organic produce to our area schools. We host school groups during the summer and are very excited by the prospect of continuing this relationship and offering nutritious food. We welcome the opportunity to be more involved with local students.
From a personal perspective, I'm reminded often that spirituality is a proposition of values, on one hand achievement, on the other contribution.
The devastation that my family witnessed after the flooding here in the Boistfort Valley was earth shattering. Life changed overnight. Everything was lost.
It was the process of our recovery and being witness to the healing of this community, which inspired a sense of obligation, a confidence in the human spirit, and a deep compassion for my fellows that I hadn't experienced before. When given the opportunity to watch an entire community dig itself out of mud and debris, literally, one is provided with certain insights: Everything can change quickly, nothing is guaranteed or permanent. In the final assessment, the most important thing we have is each other.
Once I understood this, everything happened naturally. The above list of projects grew quickly. Where I once only saw work, I now see opportunity. The dedicated and visionary people responsible seemed to materialize out of thin air, making me realize they've been there all along.
The staff at Boistfort Valley Farm and those from the organizations listed above are excited about these projects. The entire process is humbling and inspiring. All I had to do was let it happen. I look forward to taking part in these projects.
I hope we'll all experience a heightened urgency in matters of cooperation and community. The current economic uncertainty can act as a catalyst to bring these issues to the forefront of everybody's minds. Small farms, which market directly through farmers markets and CSAs, already share these ideals and have established relationships with their customers and their communities. They can heed the call and take a leadership role in the task of bringing people together for the common good.
As President Barack Obama said in his Inauguration address:
"Our challenges may be new, the instruments with which we meet them may be new, but those values upon which our success depends, honesty and hard work, courage and fair play, tolerance and curiosity, loyalty and patriotism – these things are old.
"These things are true. They've been the quiet force of progress throughout our history.
"What is demanded then is a return to these truths. What is required of us now is a new era of responsibility - a recognition, on the part of every American, that we have duties to ourselves, our nation and the world, duties that we do not grudgingly accept but rather seize gladly, firm in the knowledge that there is nothing so satisfying to the spirit, so defining of our character than giving our all to a difficult task."
Back to Home page.